5th Prize for 3D Printed Mobile at Swiss 3D Printing Competition
As part of the 20th Triennial Grenchen 2015 Art Limited – Multiple Art, the
Kunstgesellschaft Grenchen in collaboration with PrintaBit organized a 3d printing competition, in which the 3d printed mobile I submitted won 5th prize:
From the jury:
"This work highlights the formal possibilities of 3D printing, as the way the joints are combined within
one form is possible only in that new media technique; and despite the hard-edge material, the
movement and lightness of color, with the play of shadow on the wall, creates a sense of dynamic
lightness."
The above is a render. You can see an actual print of the mobile (in red) in a collection of photos from the exhibit.
1st Prize went to Markéta Schiffnederová for her 3d printed sculpture Crumpled Rabbit: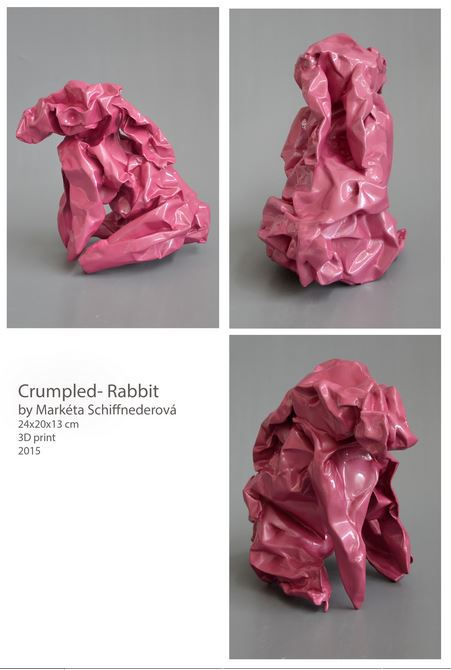 From the jury:
"As a 3-dimensional form, this work is visually interesting from all angles; its subject – an organic
creature – visually has the throw-away quality of crumpled paper, yet the synthetic colour and actual
texture are contradictions to the known sight and touch of both rabbit and paper; and because it
successfully embraces the nature of the medium of 3D printing."
2nd Prize went to Marc Reist, 3rd to Jean-François Réveillard, and 4th to Oliver Ende.
See more 3d printed art and sculptures, see more of our 3d printed mobiles, or read more of my blog about mobiles.
Copyright © 2018 Marco Mahler