9 Original Calder Works Coming to Auction for the First Time
A group of nine works by Alexander Calder will be sold at Christie's Post-War and Contemporary Art Evening Auction in New York on May 10th 2016. All of them were made by Calder in 1955 while visiting Ambalal Sarabhai's family estate in India. Calder spent three weeks at the secluded 20-acre estate, in a makeshift studio constructed in the garden with "a water-buffalo lady and a calf" for company, as he wrote in his book (Calder: An autobiography with pictures, 1966). This is the first time this group of Calder sculptures is coming to auction. Among the works to be auctioned:
Sumac #17
Hanging Mobile
Sheet metal, wire and paint
Inspired by the flowering plant of the same name
Estimated at US$4 million to US$6 million
[Update: Price Realized $5,765,000]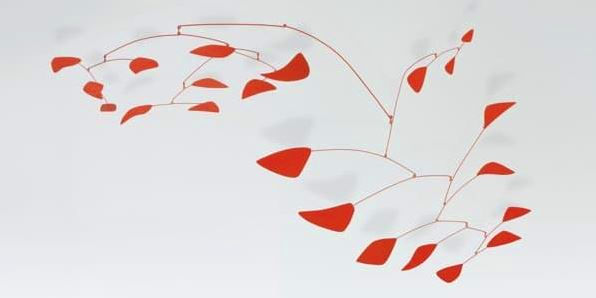 Related: Watch a 360-degree view of Calder's large red mobile Sumac created in 1961.
How the visit to India came about, in Calder's own words: "In 1954, I received a letter from a young Indian woman, Gira Sarabhai, youngest of eight children of a large wealthy family in Ahmedabad, which is somewhere halfway between Bombay and Delhi. She offered Louisa and me a trip to India, if I'd consent to make some objects for her when there. I immediately replied yes."
Calder in India in 1955 (Louisa Calder, his wife, is seated atop the elephant):
Estimates range as high as US$10 million, with a total pre-sale estimate of around US$26 million to US$38 million.
Read The forgotten journey of Alexander Calder and view the e-Catalogue. Also see An Expert Look at Never-Before-Auctioned Alexander Calder Works and Mobile Revolution.
– Read more of my blog about mobiles or see some of my mobiles –
Copyright © 2018 Marco Mahler