3D Printed Mobile in Philadelphia Exhibit Titled MathThematic: A Fine Art Exhibition
Our 3D printed mobile Quaternary Tree Mobile (Level 5) is part of the current exhibition at Esther Klein Gallery in Philadelphia titled MathThematic: a fine art exhibition: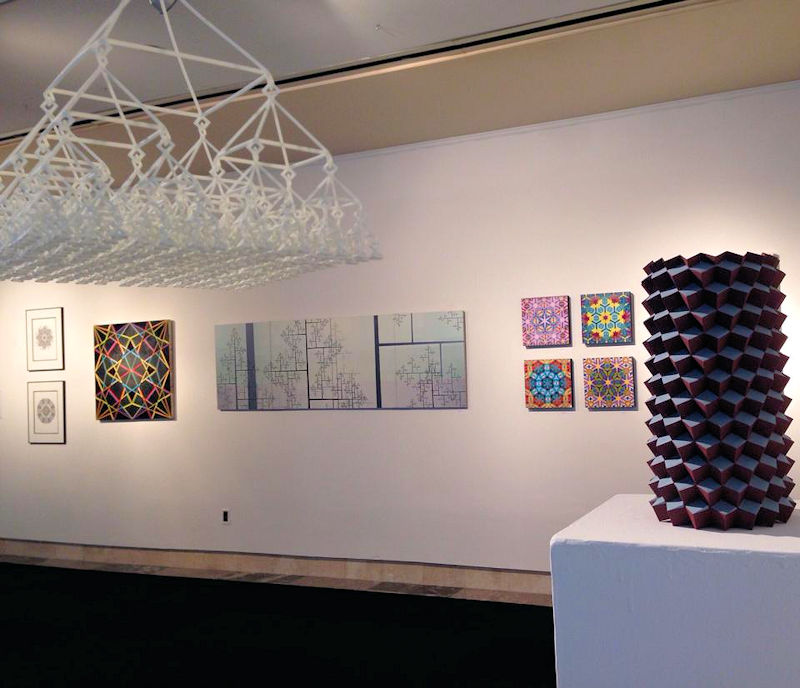 The show features artists of all media in an exhibition demonstrating mathematic evidence in art, whether the works are directly inspired by math (geometry, fractals, patterns, etc.) or if the mathematical principles emerge naturally and reveal themselves from our human predisposition towards order.
The exhibition is taking place at the Esther Klein Gallery at Philadelphia's University City Science Center, 3600 Market Street, October 7–November 20, and is part of the annual city-wide DesignPhiladelphia festival (October 8–16). An opening reception is scheduled for today, October 14, 5–7:30pm. Gallery hours are Mondays–Saturdays, 9am–5pm.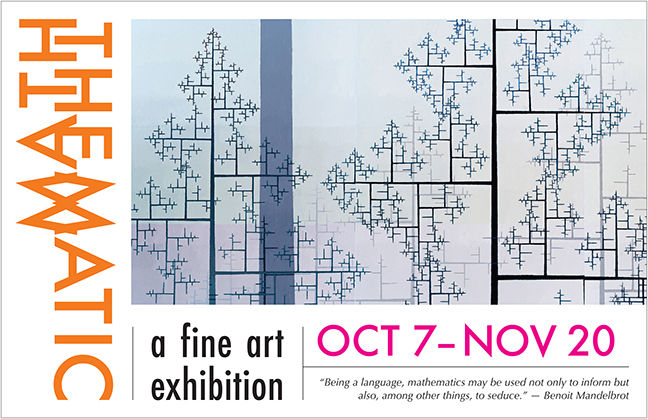 Among 2-dimensional paintings and drawings that display intricate fractals and kaleidoscopic geometries, a variety of 3-dimensional, video and interactive works will be on display. Showcasing mathematics as much as the medium, some of the works on view include a long algae-like crocheted piece of hyperbolic curves, interactive design where the viewer can customize fractal performance with the touch of a finger, and unique geometric paper sculptures using the system of scientific kirigami.
Participating artists include: Justin Bean, Regina Ceribelli, William Cromar, Jessica Curtaz, Chris Eben, Robert Fathauer, Karen Freedman, S. Leser, Marco Mahler and Henry Segerman, Gabriele Meyer, Maximilian Morresi, Brittany Phillips, Bruce Pollock, Mike Tanis, Andrew Cameron Zahn.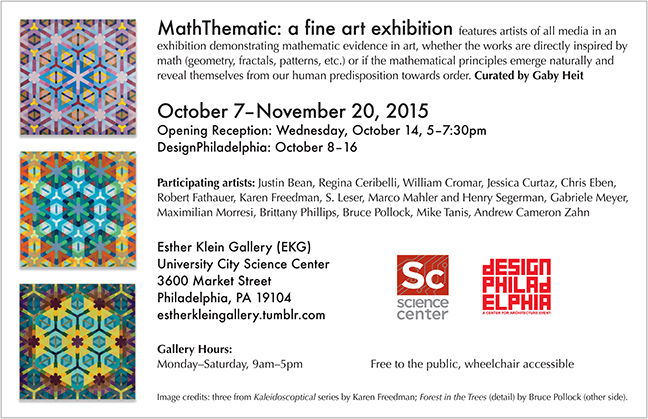 This is the second exhibition curated by Gaby Heit at the Science Center's Esther Klein Gallery investigating natural design. The first one was Cellular/Molecular for the 2013 Philadelphia Science Festival.
Press:
Copyright © 2018 Marco Mahler