Mobile Sculptures for sale at Art Basel Miami Beach December 7th – 10th 2017:
Roy Lichtenstein
Mobile I, 1989
Galerie Gmurzynska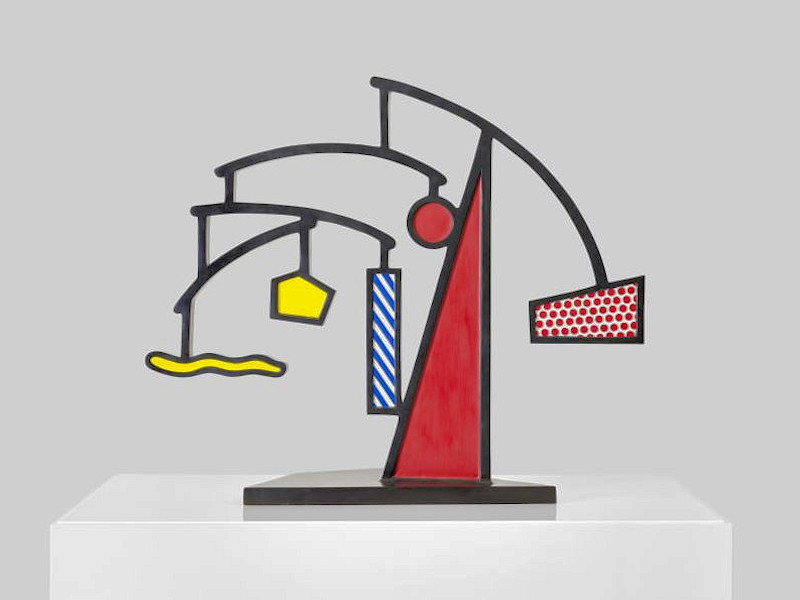 FOS
Mobile, 2010
Nils Stærk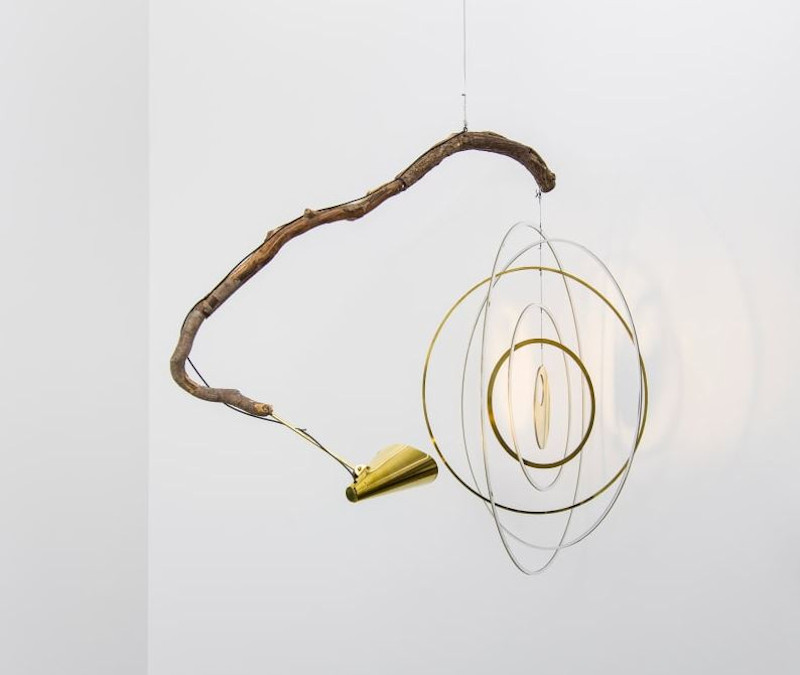 Alexander Calder
Untitled, 1967
Kukje Gallery / Tina Kim Gallery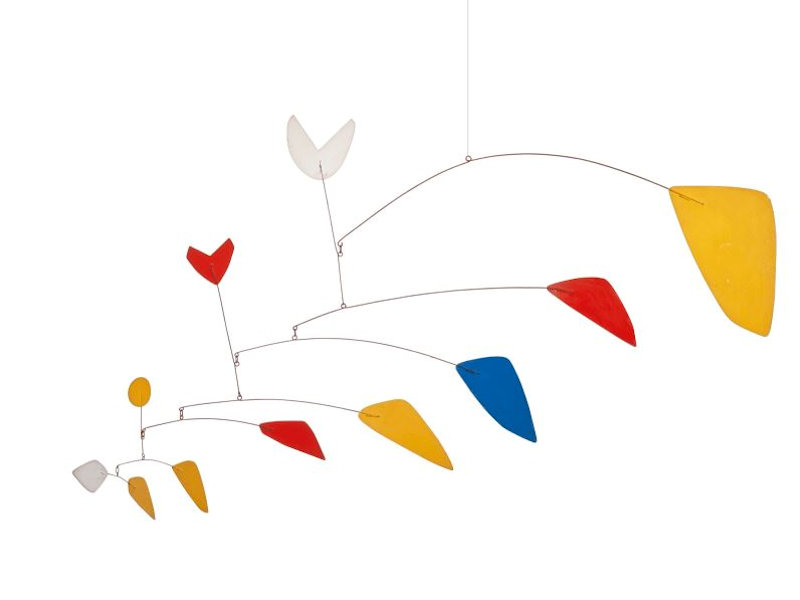 Alexander Calder
Gypsophila on Black Skirt, 1950
Helly Nahmad Gallery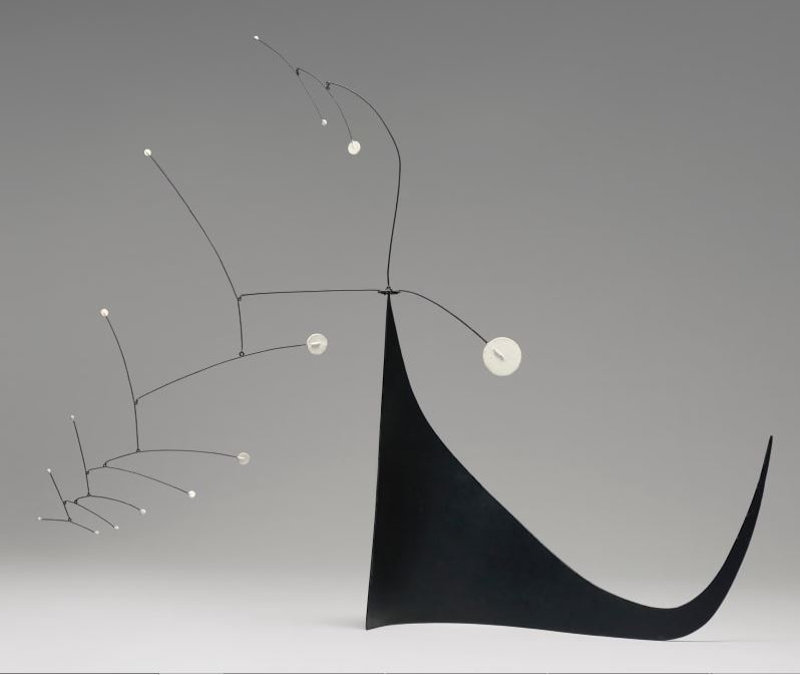 Helly Nahmad Gallery also showed and sold Rouge Triomphant, a large hanging mobile by Calder, at Art Basel Miami Beach in 2014.
Alexander Calder
Untitled, 1955
Helly Nahmad Gallery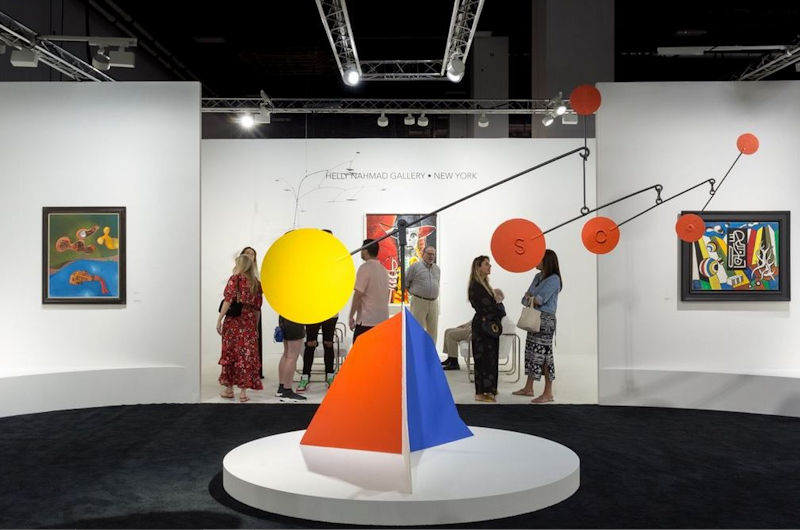 The above mobile sculpture measures 9 ft (2.74m) in height and 11 ft (3.35m) in width. It was made by Calder in India and can rotate full circle. Helly Nahmad Gallery is offering it for US$6.8 million.
Alexander Calder
Three Tentacles, 1975
Galerie Thomas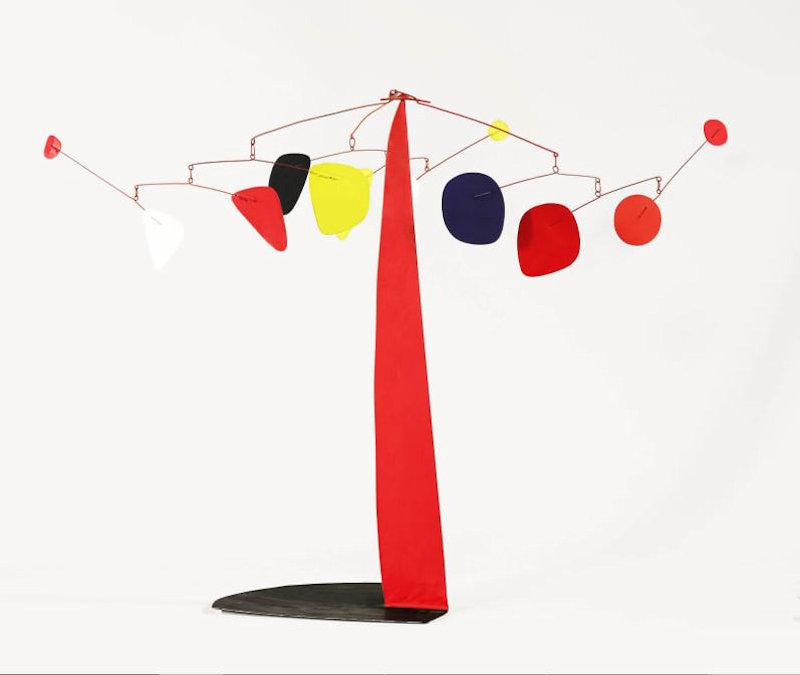 Alexander Calder
Untitled, 1974
Galería Leandro Navarro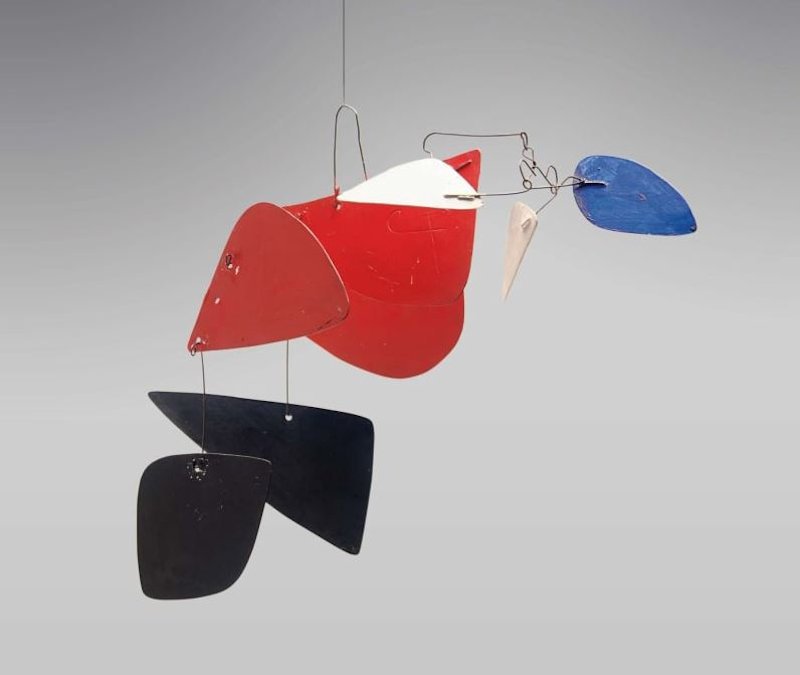 Martin Boyce
Untitled, 2017
The Modern Institute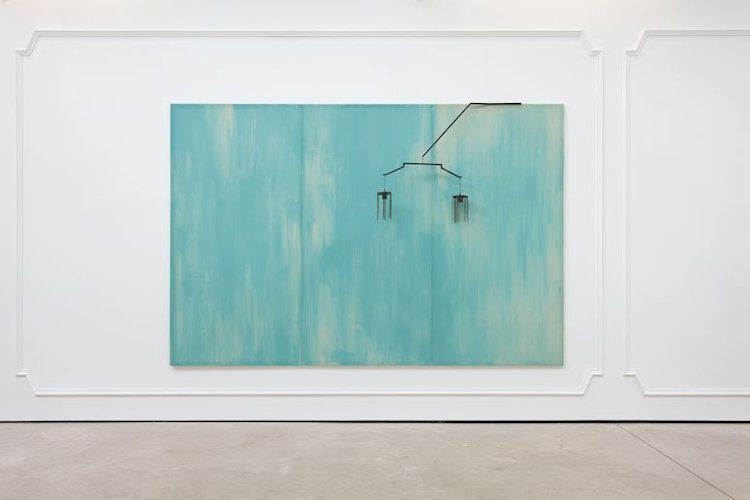 Alexander Calder
Red Snail, 1959
Galerie Thomas
Tomás Saraceno
Cumulonimubus calvus/M+Mb, 2017
Esther Schipper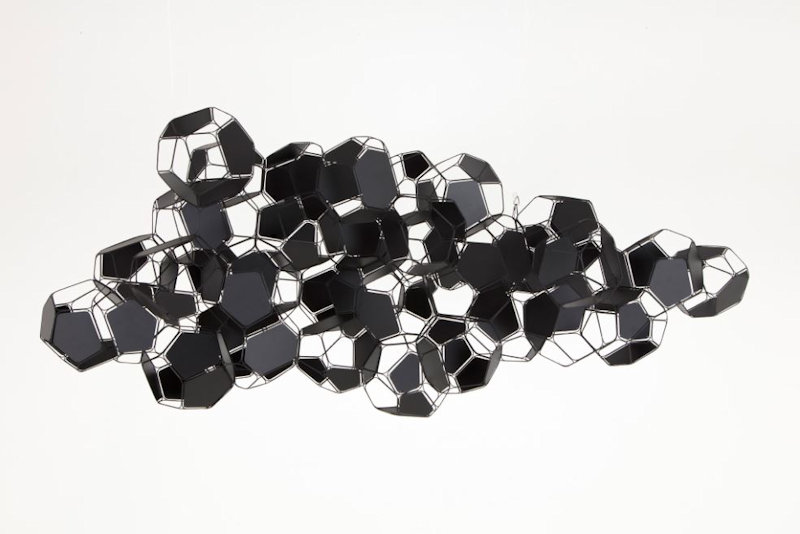 Tomás Saraceno
Foam 91p/Mn, 2017
Esther Schipper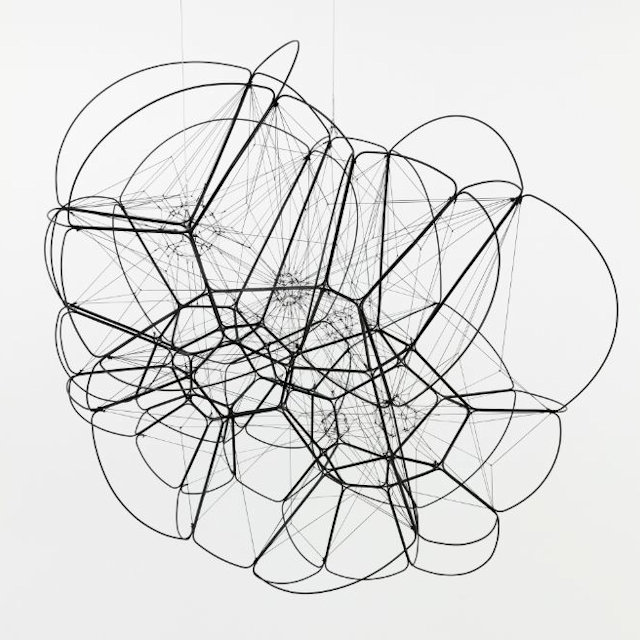 Tomás Saraceno
NGC/IC/M, 2017
Tanya Bonakdar Gallery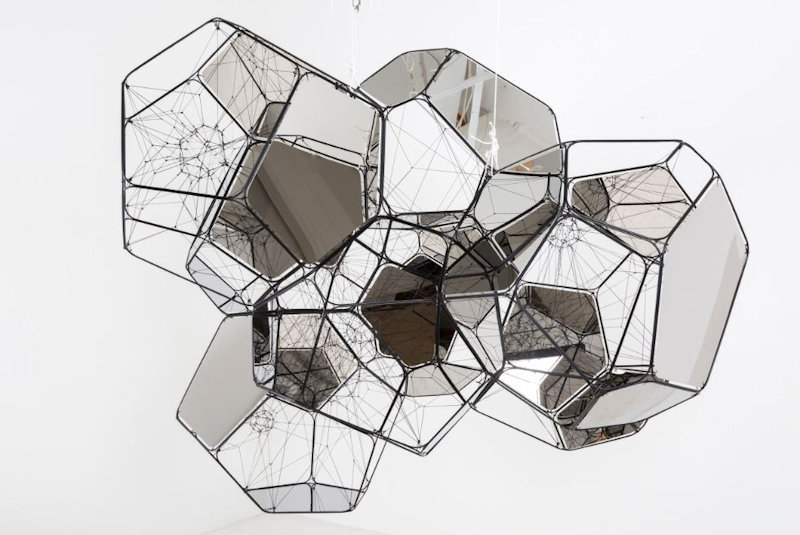 Claire Falkenstein
Sun, 1960
Michael Rosenfeld Gallery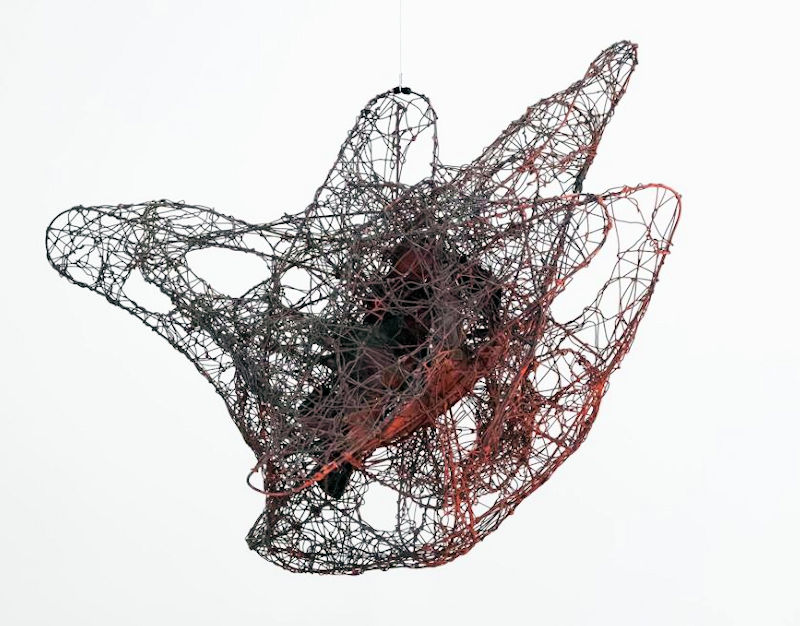 The above sculpture reminds me of Swarm Chandelier by Zaha Hadid.
Bruce Nauman
Untitled (Two Wolves, Two Deer), 1989
Hauser & Wirth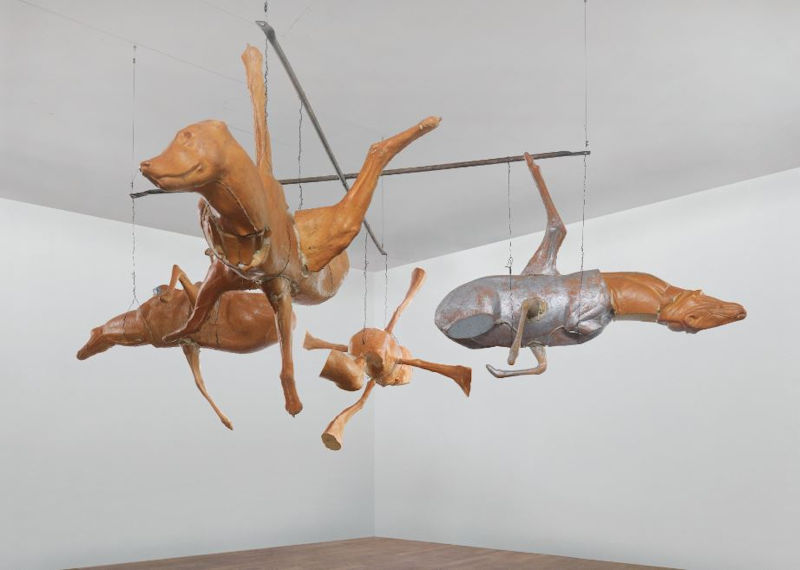 Jorge Pardo
Untitled, 2015
neugerriemschneider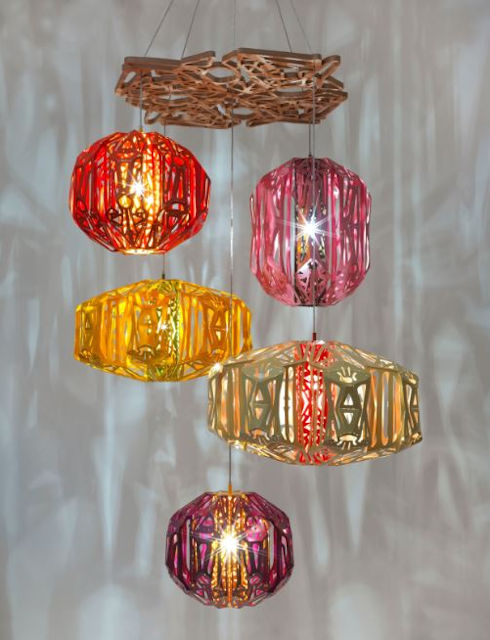 And some suspended sculptures for sale at Design Miami Dec 6th to–10th 2017:
Christopher Kurtz
Untitled #1, 2017
Patrick Parrish Gallery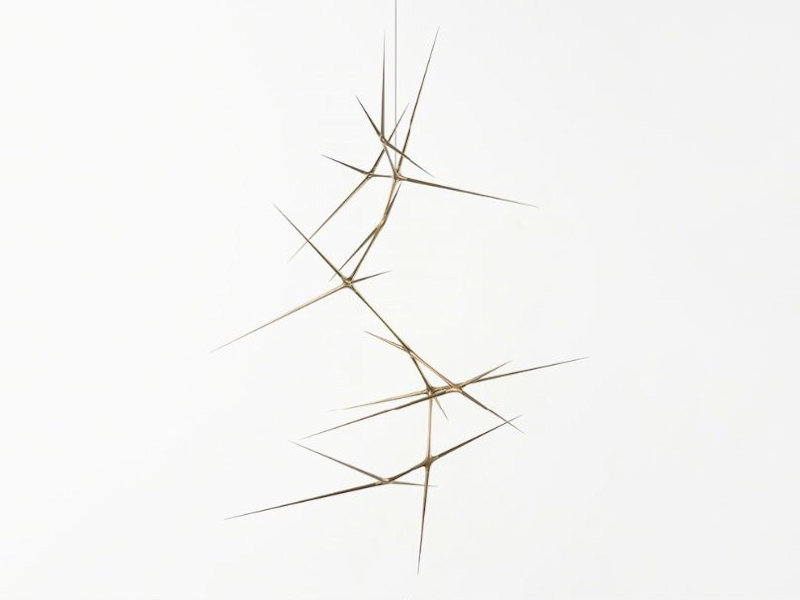 Christopher Kurtz
Untitled, 2017
Patrick Parrish Gallery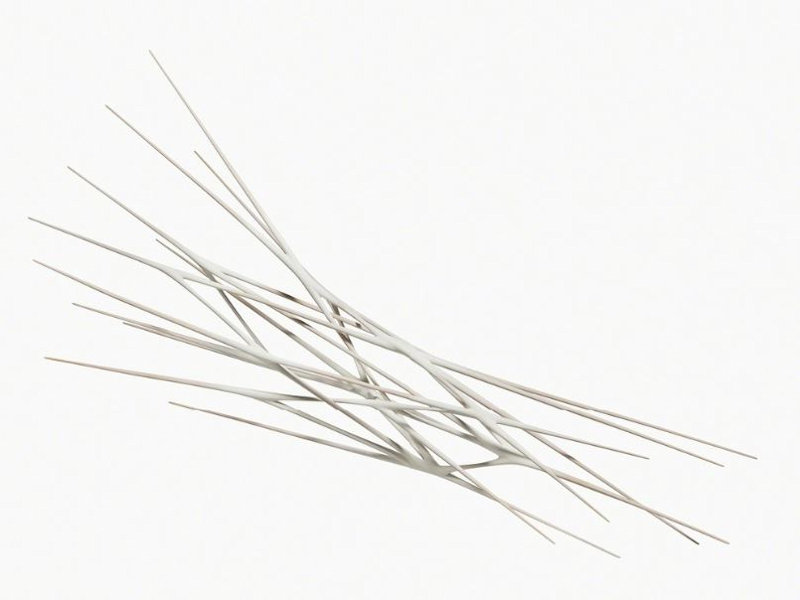 Kasper Kjeldgaard
Talisman, 2017
Patrick Parrish Gallery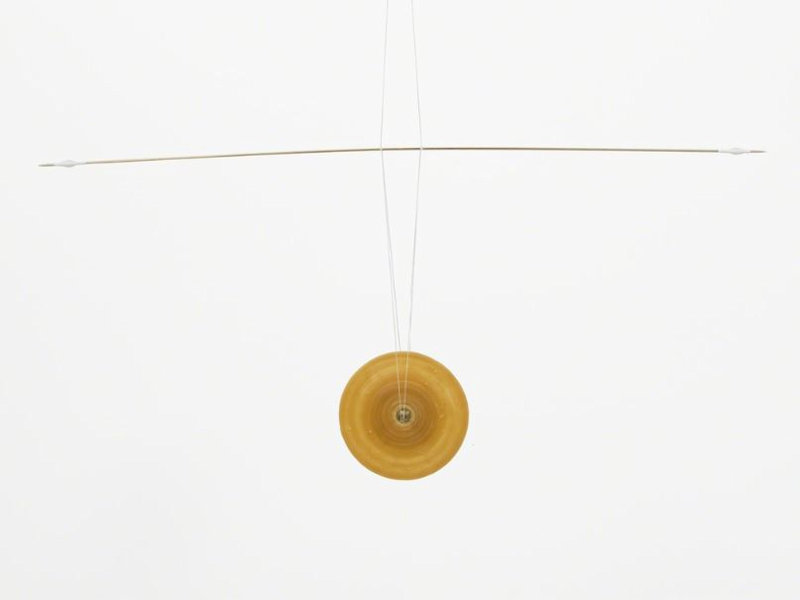 And a hanging mobile:
Kasper Kjeldgaard
Friction, 2017
Patrick Parrish Gallery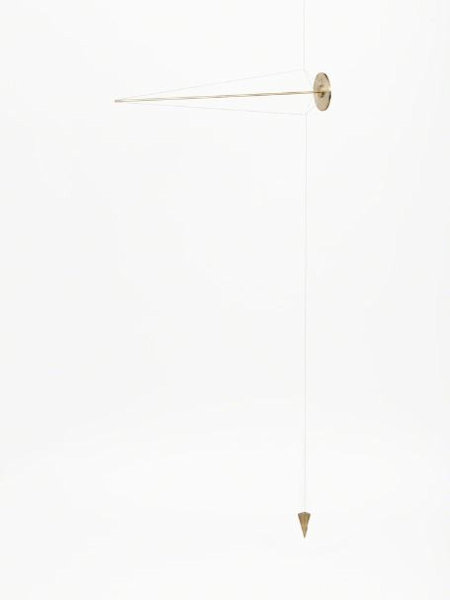 Related: The 15 Best Booths at Art Basel in Miami Beach 2017
– See more mobiles –
– Read more of my blog about mobiles –
Some snapshots of new mobile sculptures I'm currently working on: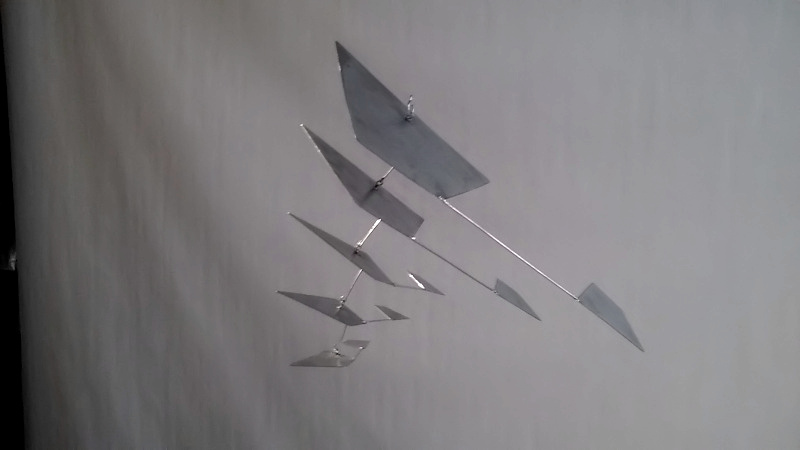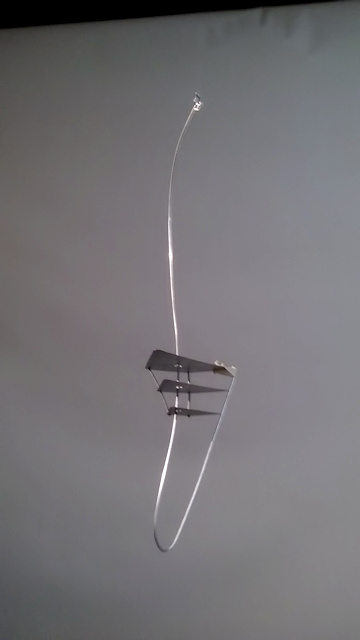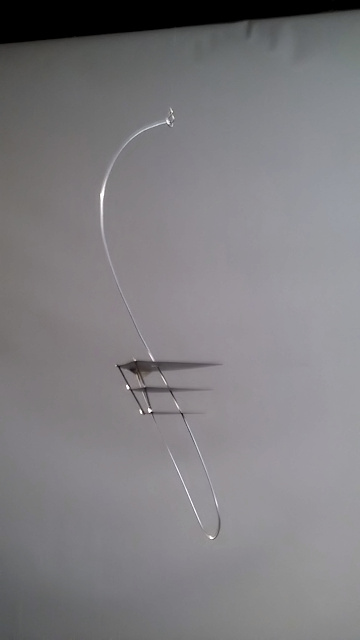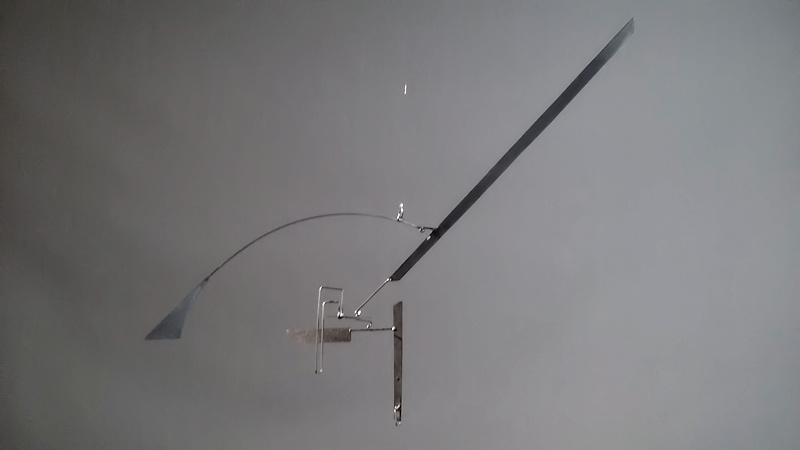 These are true mobiles, meaning they are kinetic and based on the same balance structure as a Calder mobile, yet original and contemporary in design.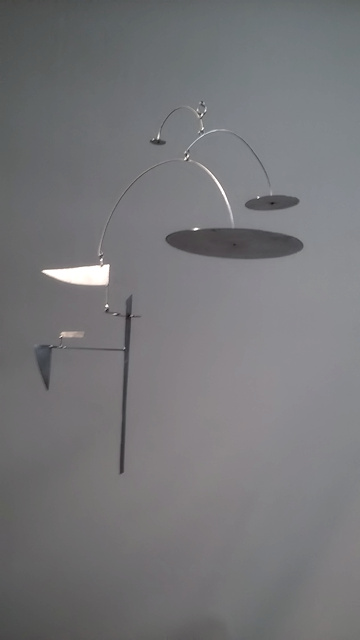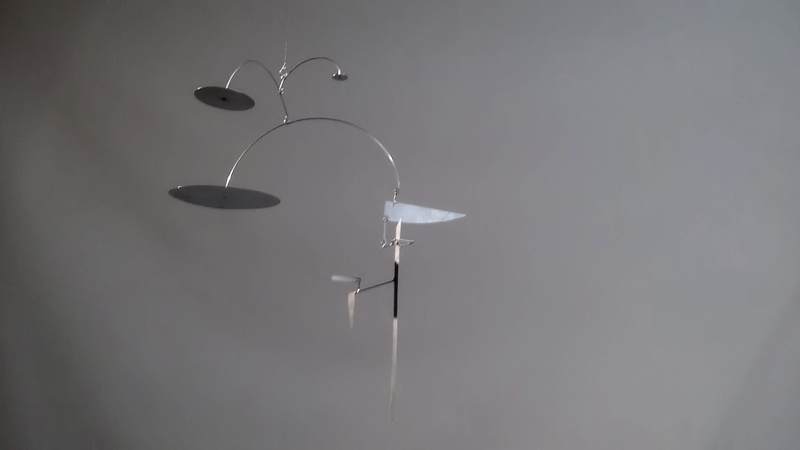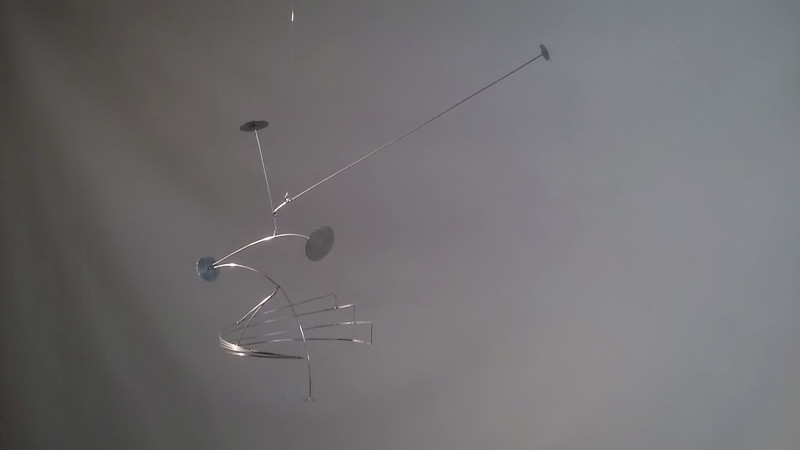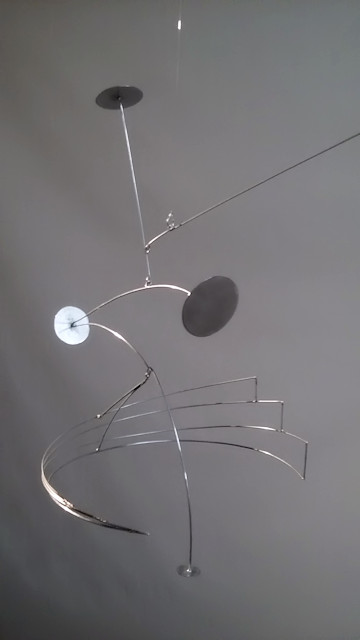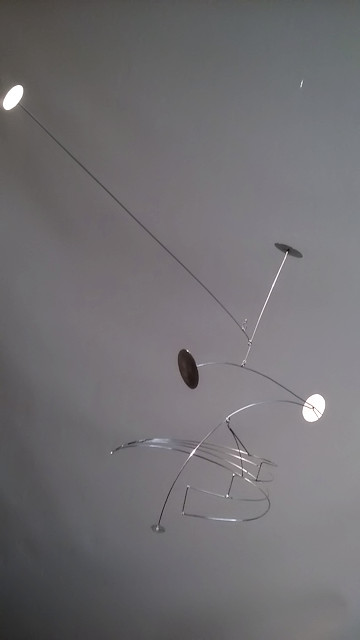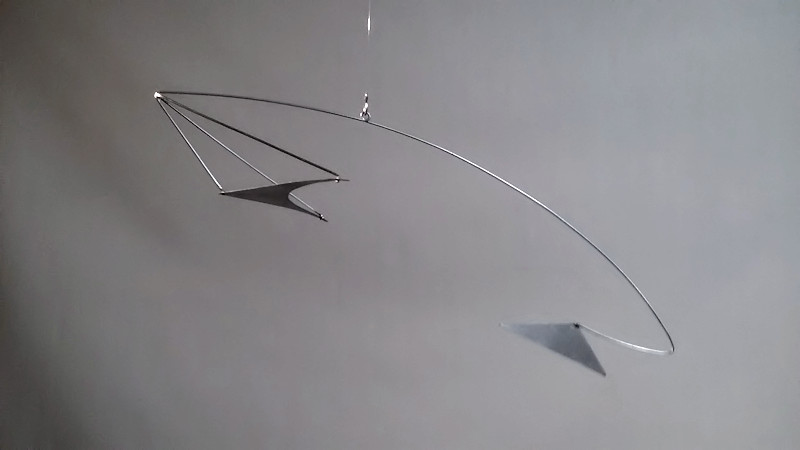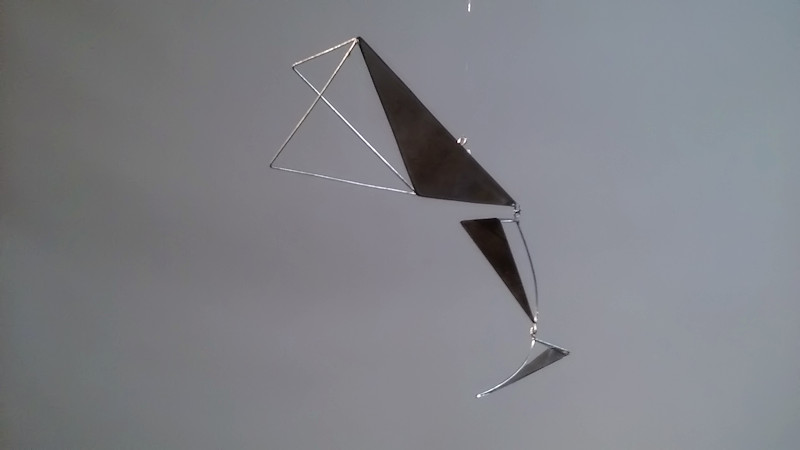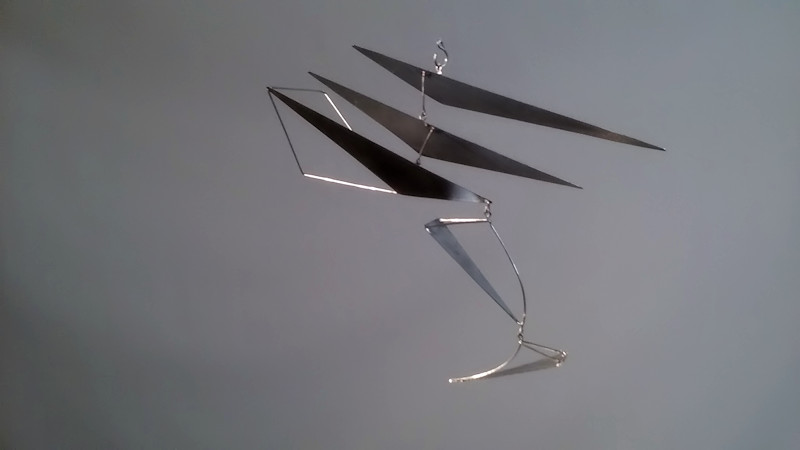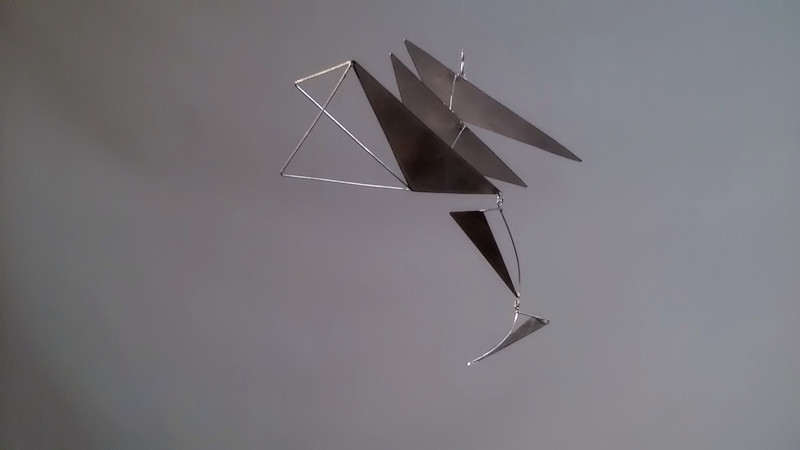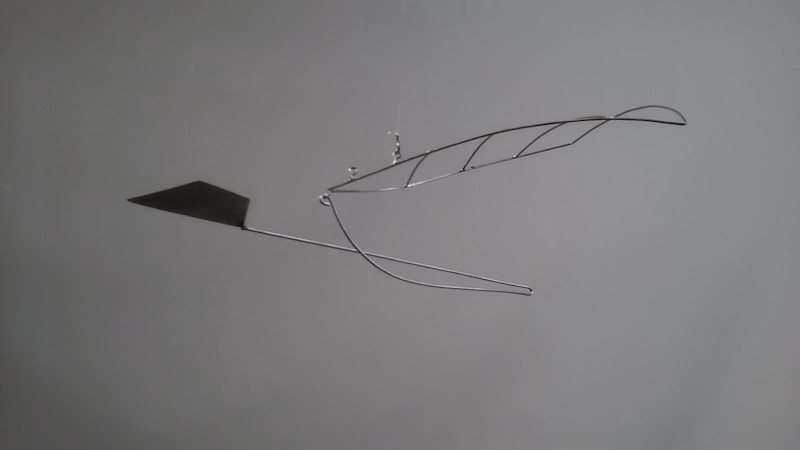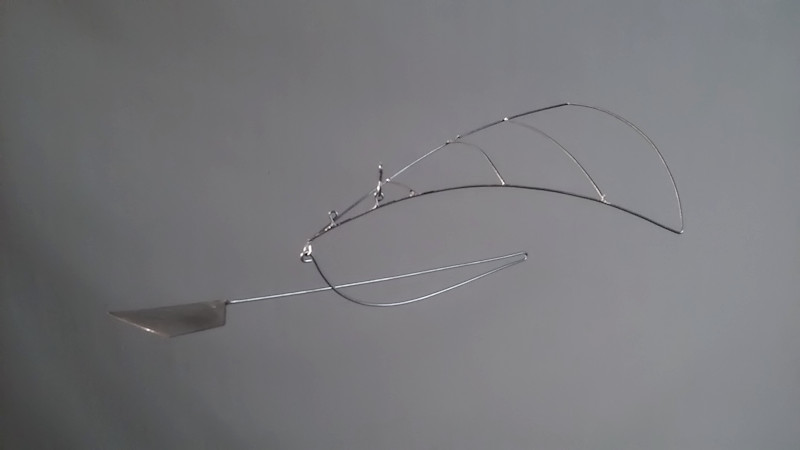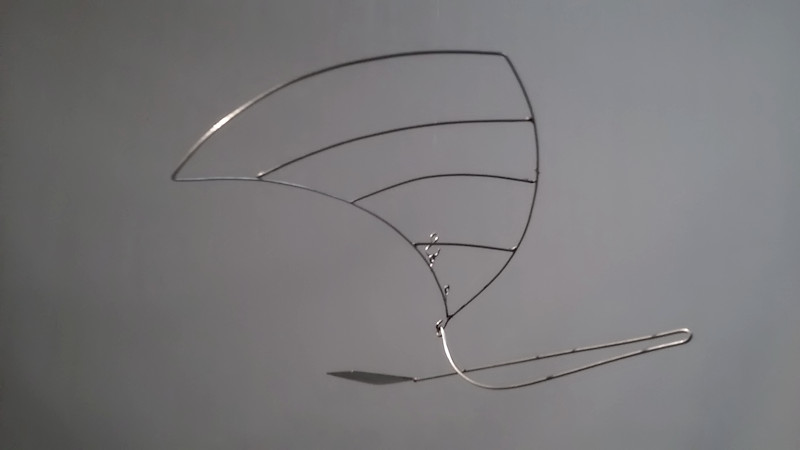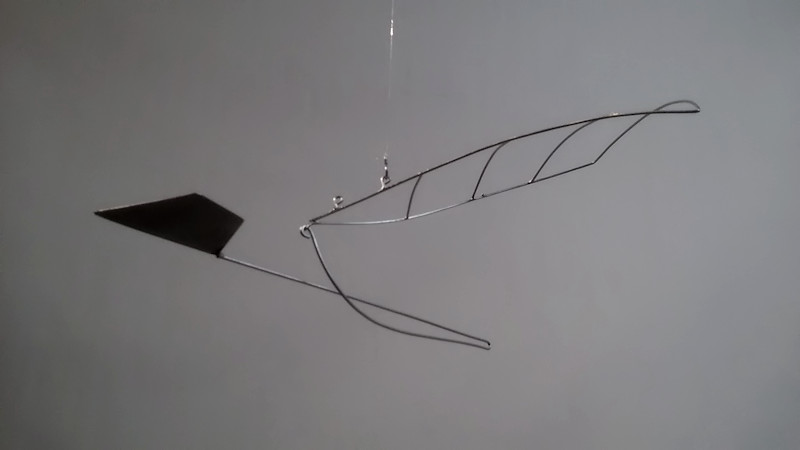 See New Contemporary Original Mobile Sculptures in Progress – Part 2
See an additional contemporary mobile sculpture
See more of my mobiles
This is a continuation to my previous post Mobiles before Calder – A History of Mobiles (Part 1), in which I wrote about mobiles (or mobile-like sculptures) throughout history up until the early 1930s, when Alexander Calder started to make them. This second part focuses on sculptors who have made mobiles from the 1930s on.

Probably anyone who is familiar with mobiles as an art form knows of Calder's work. After all, he is widely regarded as the originator of the genre, which he continues to dominate even to present-day. Art critic and Los Angeles Times contributor David Pagel refers to mobiles as "a genre of sculpture [Calder] may not have invented but owns so completely that it's almost impossible for another artist to make a mobile and not be compared, unfavorably, to Calder." As someone who makes mobiles professionally, I believe that there are vast uncharted territories in the art form of mobiles.
Not many sculptors have applied themselves to the relatively new art form yet over the past 100 years. However, some sculptors and specifically mobile artists (besides Calder) have made important contributions to the art form since the early 1930s. Here are some of the ones I'm aware of (in somewhat chronological order):
Lynn Chadwick (1914-2003) was an English sculptor and artist. A self-trained yet extremely skilled craftsmen in metal, he is regarded as one of the major figures in the arts of the second half of the 20th century. In the early 1950s, while working with architect Rodney Thomas, he made mobiles both suspended and standing. Made of wire, balsa wood, copper and brass, very few of these mobiles survive: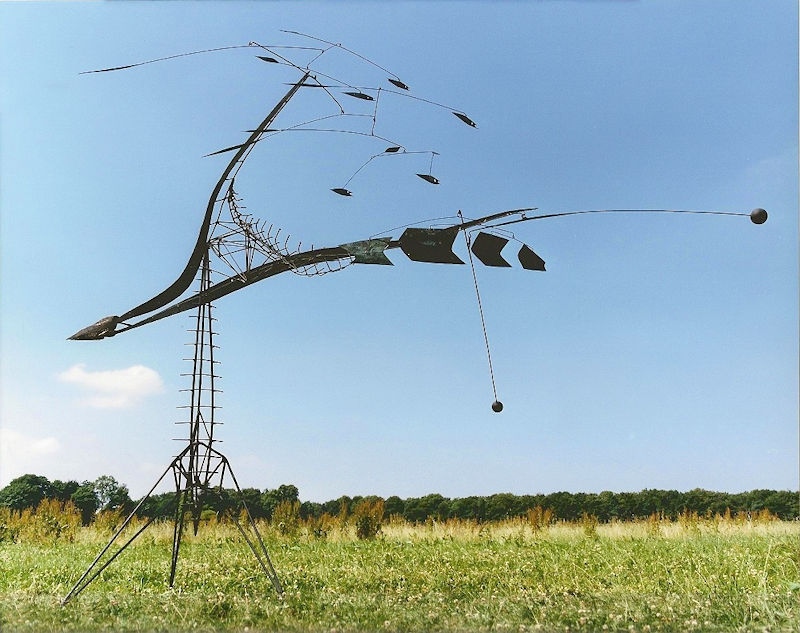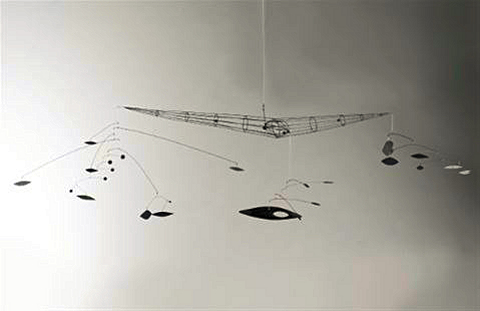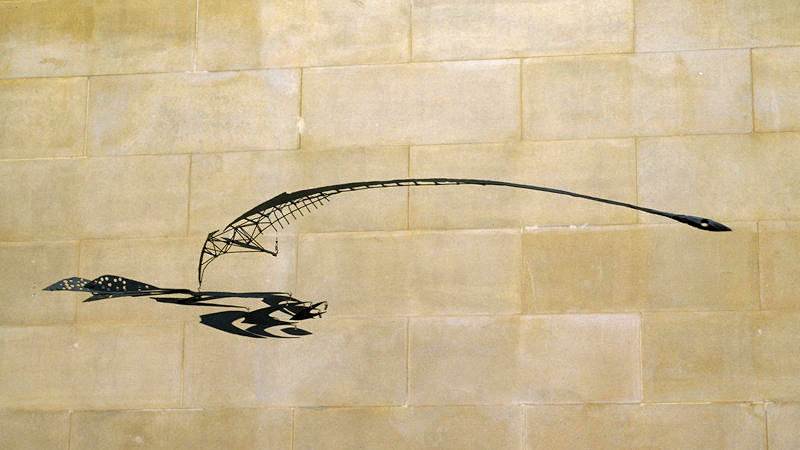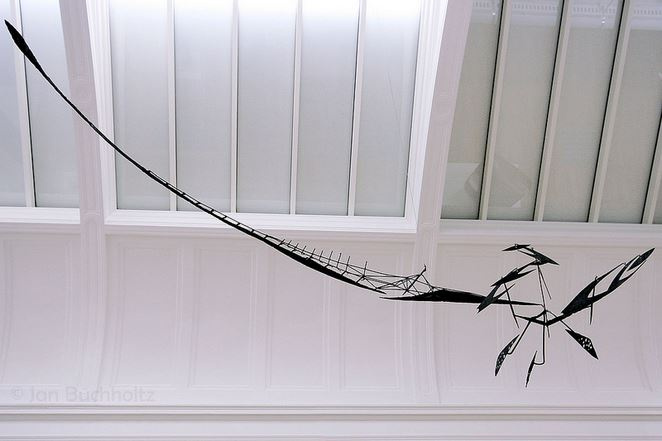 His son Daniel Chadwick makes mobiles as well.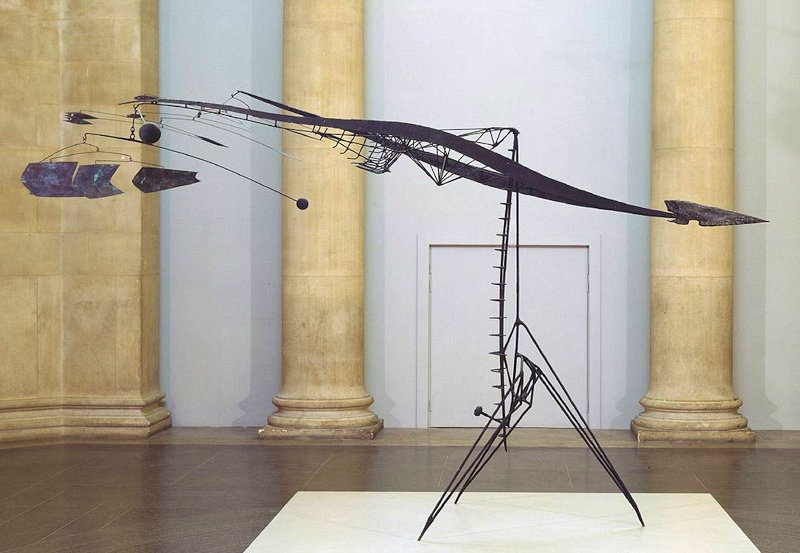 A mobile appears to be hanging on the wall in the back in Lynn Chadwick's studio: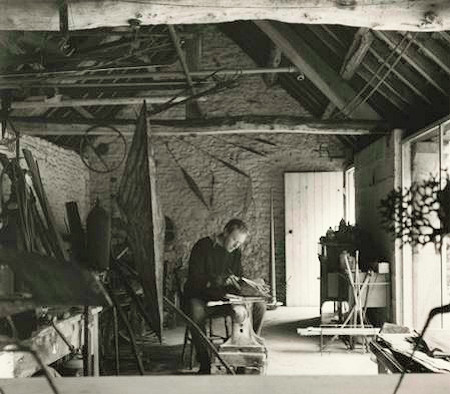 George Rickey (1907-2002) was an American kinetic sculptor. Originally inspired by Calder's mobiles and having served as an engineer in the Army Air Corps in World War II, he is well known for his innovative standing kinetic sculptures that respond to the slightest air currents, and whose simplicity and scale made him an important figure in contemporary art. In 2002, The New York Times wrote: "It is a curious fact of contemporary art history that Mr. Rickey left no significant artistic heirs … no sculptor has adopted his innovations with comparably persuasive ambition or elegance." Among others, I would think Phil Price would probably qualify as a significant artistic heir. As to Rickey and mobiles, he made them as a child already and kept returning to the art form: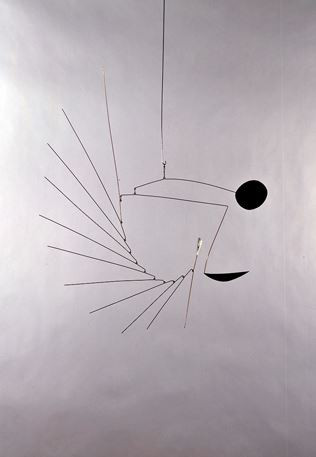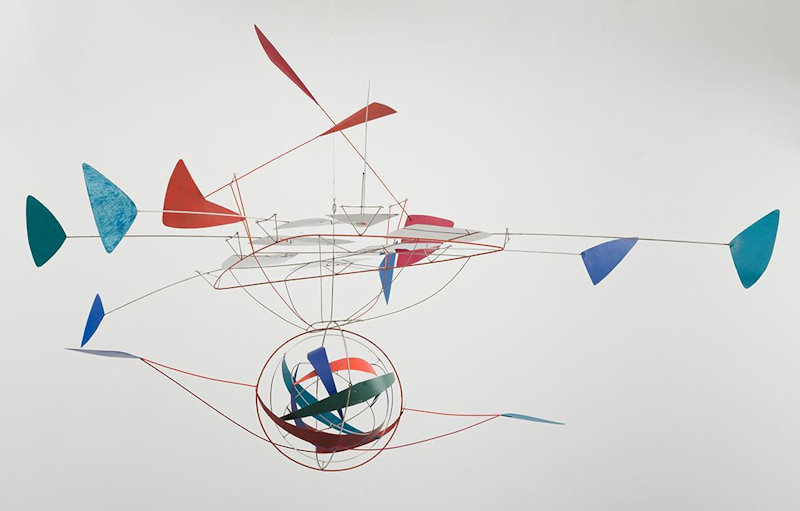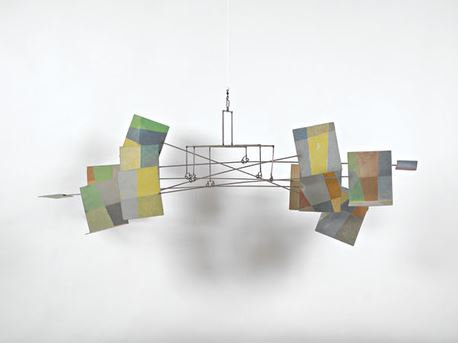 A standing mobile: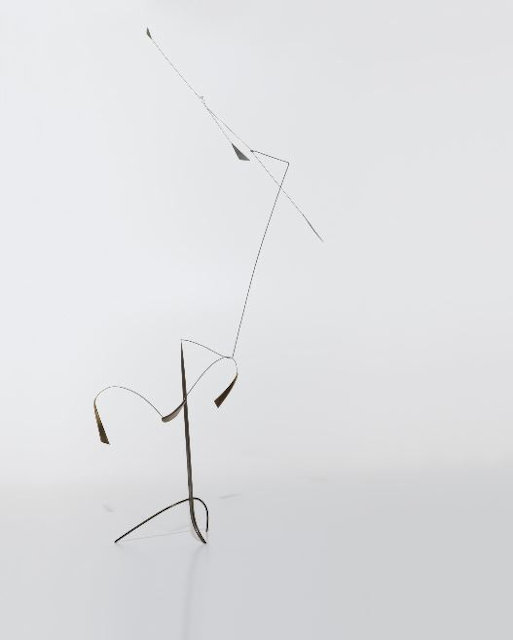 Richard Lippold (1915-2002) was an American sculptor known for his geometric constructions, often relating to Cubism and Constructivism. His suspended sculptures may not qualify as mobiles, but I like them too much to not include them in this list. He spent decades stringing wires across rooms, working with architects like Walter Gropius, creating hanging sculptures that measured over 100 feet and consisted of miles of wire. The below pictured "Orpheus and Apollo", which used to be installed at Lincoln Center, was possibly one of the largest works of public art in New York City (it is currently dismantled for maintenance and conservation):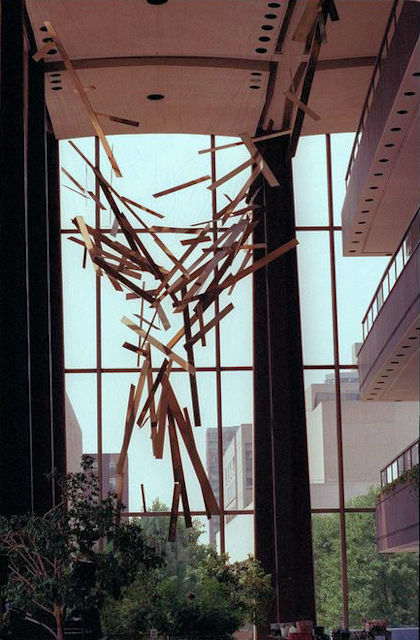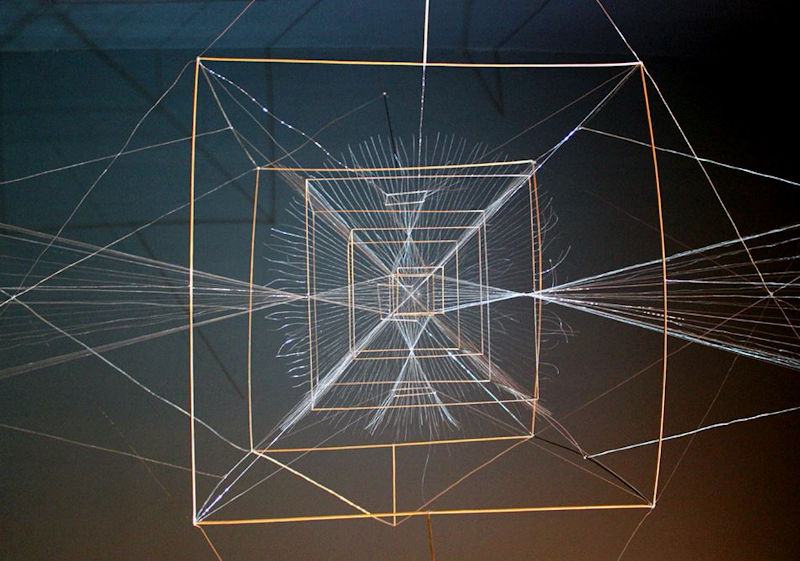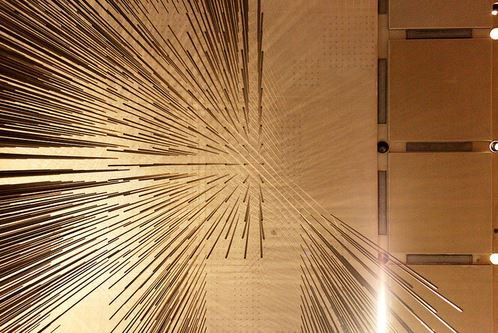 Bruno Munari (1907-1998) was an Italian artist, designer, and inventor. He was interested in creating pieces of art that could interact with their environment, and made what he called "Useless Machines" (macchine inutili) of which many were essentially mobiles. Very similar to Calder's thought process when he started to make mobiles, Munari thought that instead of painting geometric forms, why not free them from their static state and suspend them in the air: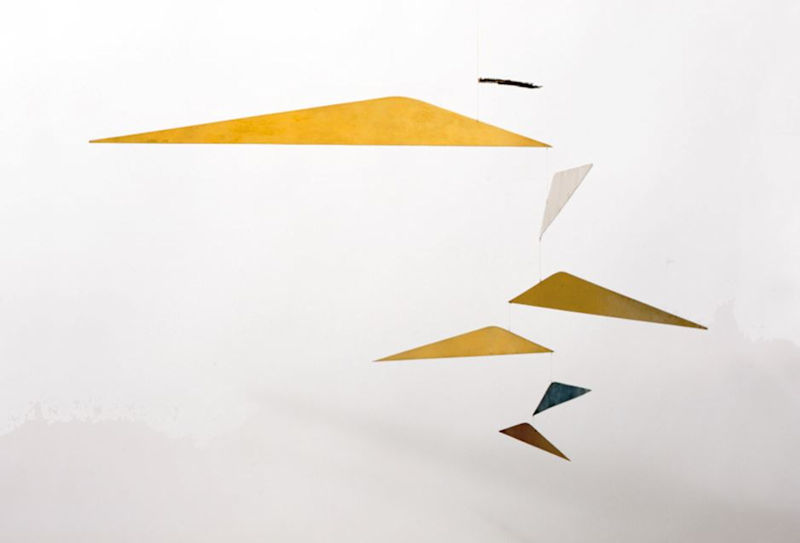 The following suspended sculpture by Munari seems related to Ruth Asawa's looped wire sculptures that she made only a short number of years later: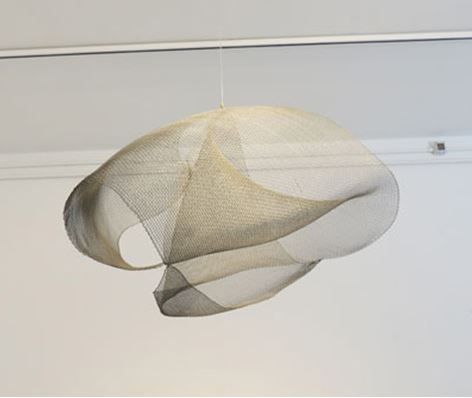 Philippe Hiquily (1925-2013) was a a French sculptor and designer. After attending Ecole des Beaux Arts in Paris, including workshops by sculptor Jean Tinguely, he went on to make a wide variety of sculptures and furniture, including mobiles: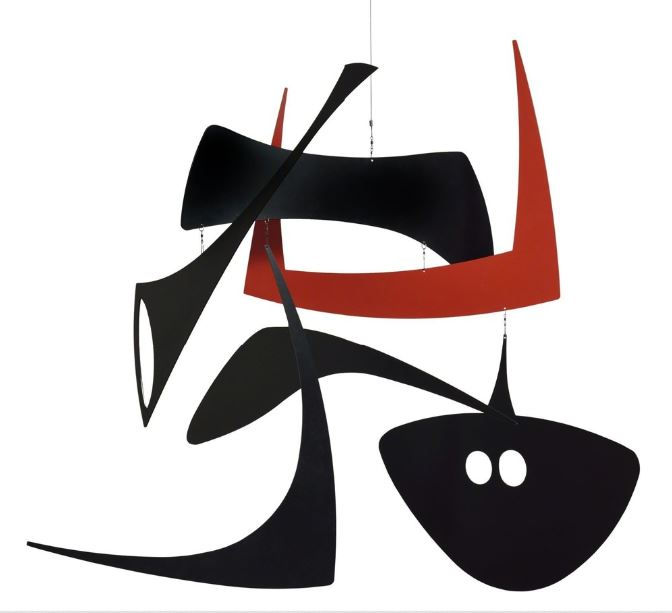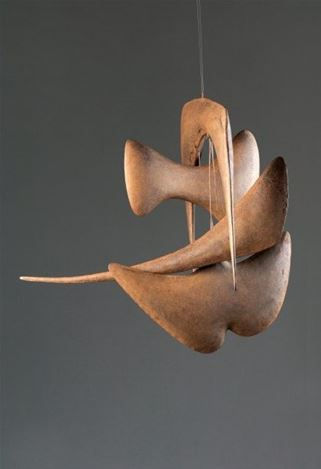 Kenneth Martin (1905-1984) was an English painter and sculptor. After focusing on portraits and landscapes, his interest turned to Kasimir Malevich's art and geometric abstraction, which he also applied to mobiles and kinetic sculptures beginning in the early 1950s: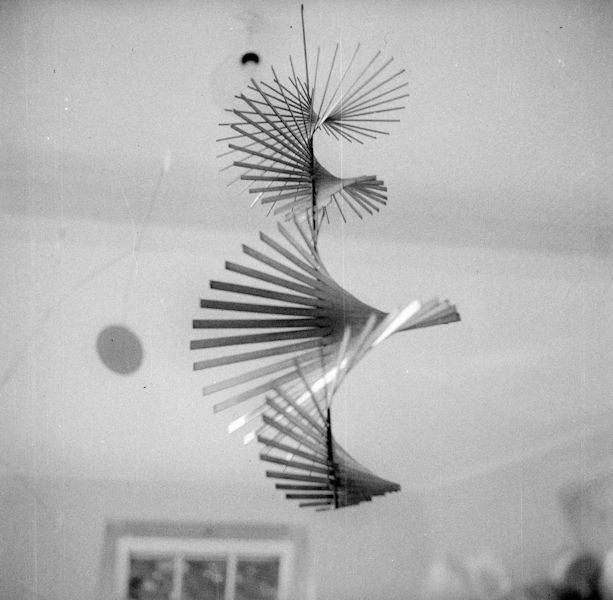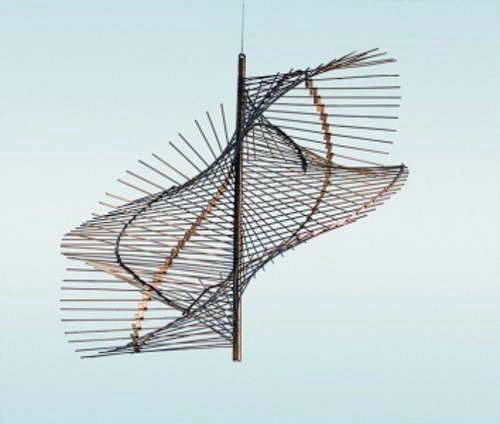 Among contemporary mobile artists, Miranda Watkins' mobiles appear to be taking a similar approach as the above mobile, as well as some of the 3d printed mobiles I created in a collaboration with mathematician Henry Segerman.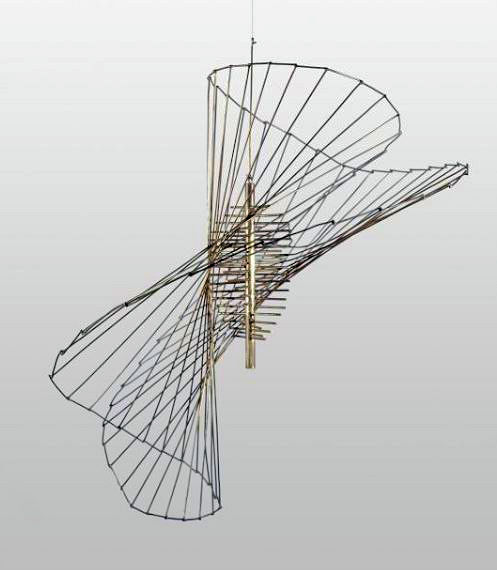 Gertrud Louise Goldschmidt (1912–1994), more commonly known as Gego, was a modern Venezuelan artist and sculptor. I wouldn't consider her suspended kinetic sculptures necessarily to be mobiles, at least not the ones that I'm familiar with. Yet I think the breakthroughs she contributed are, and will be, very significant to the art form: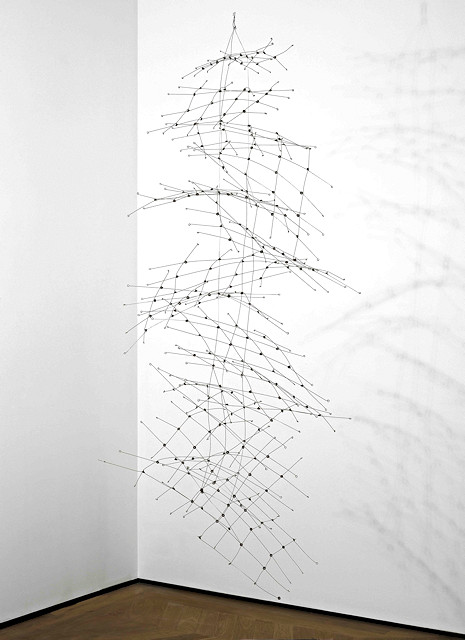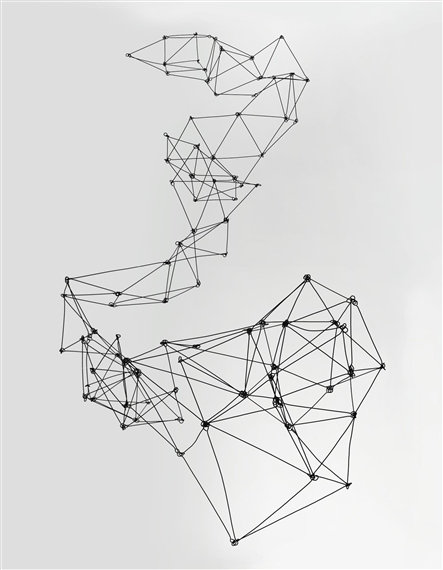 Be sure to also take a look at the amazing work by Elias Crespin (her grandson).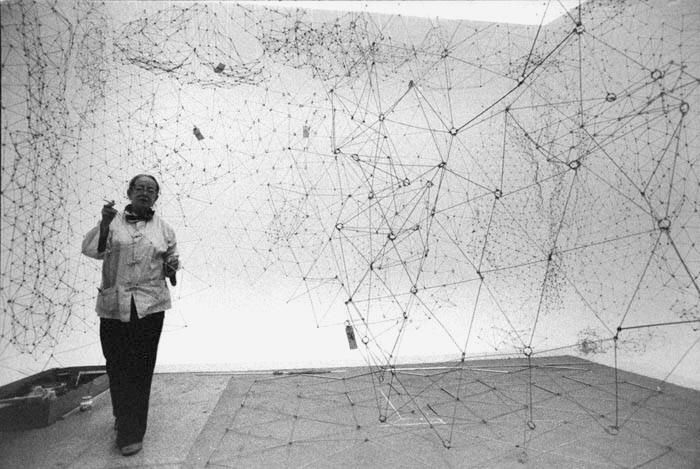 Jerome Kirk (b. 1923) is an American sculptor. After earning a degree in mechanical engineering from MIT, he has made sculptures that measure over 45 feet in height and weigh over 6 tons, exploring a wide variety of kinetic sculptures including mobiles, both suspended and standing: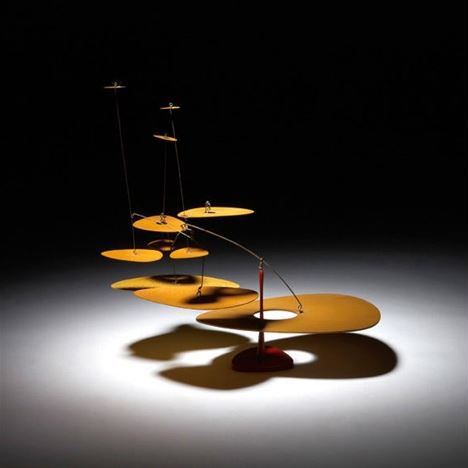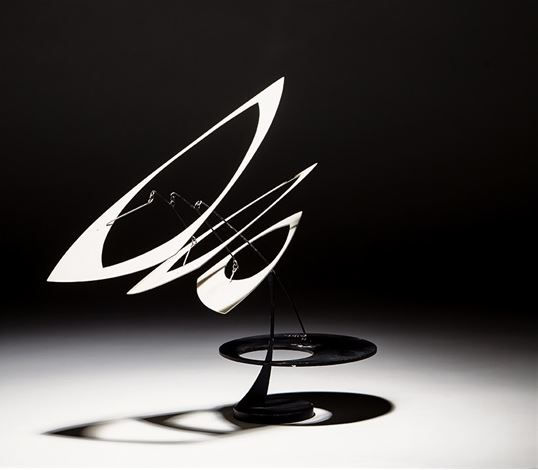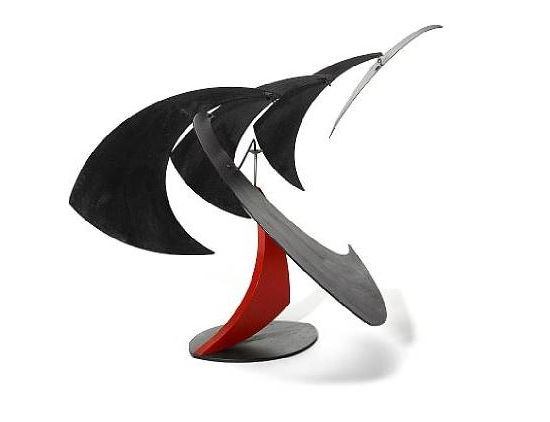 Tim Prentice (b. 1930) is an American architect and kinetic sculptor. Beginning in the 1970s, his work grows out of the tradition of Alexander Calder and George Rickey, both of whom he met, but it became something very original and fascinating of its own, or as he recently put it "I claimed some new territory because there was more turf to be explored":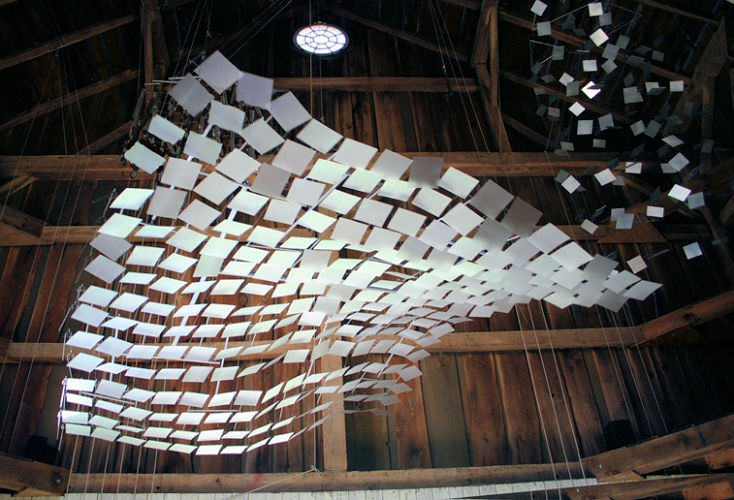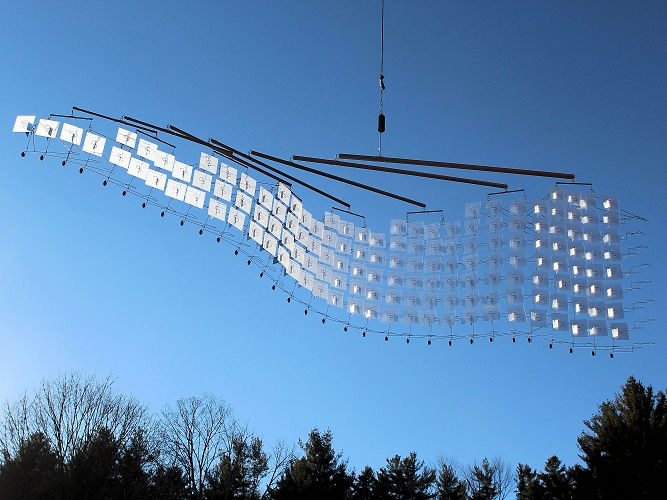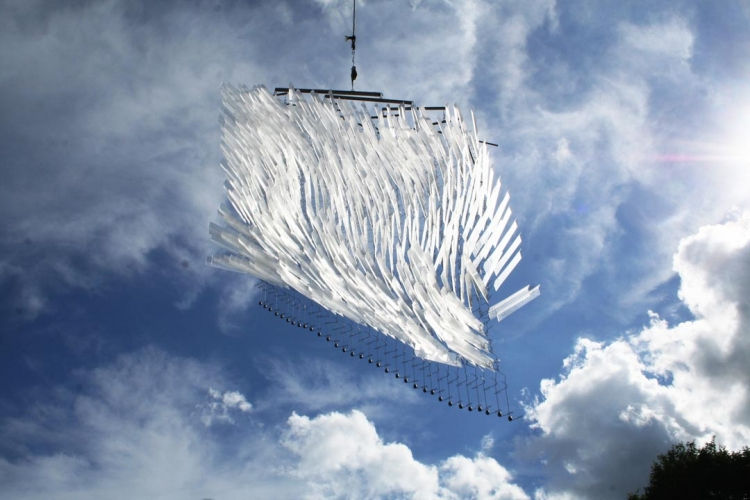 Calder's work, along with mobiles in general, has recently received renewed attention and interest, partly due the Calder Foundation's excellent management of Calder's body of work and arrangements of brilliant shows worldwide. His mobiles keep setting new records at auctions, selling in the tens of millions of dollars. In 2014, the Art Newspaper wrote about that year's world-renowned art fair Art Basel in Miami Beach: "Among the works by the hundreds of artists brought by 267 galleries from 31 countries, mobiles definitely constitute a trend."
I'll be adding to the above list from time to time as I move on to more contemporary mobile artists (or maybe I'll start an additional page).
If you have any suggestions, I'd love to hear from you.
Also, does anyone know who made this mobile? If you do, please let me know.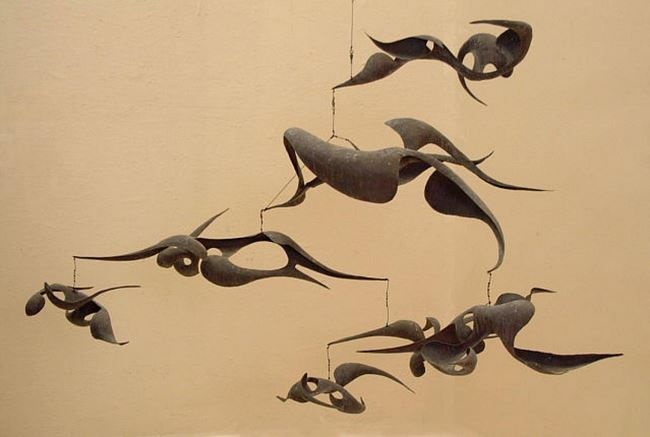 Copyright © 2018 Marco Mahler