New Large Outdoor Mobile
This large hanging outdoor mobile is 7 1/2 feet wide (2.3 m) and almost 2 1/2 feet tall (0.7 m) when it's hanging still. It's made with aluminum instead of steel which keeps the weight of it rather light, only about 8 pounds (3.5 kg).
It consists of two elements, both with a sort of cut off triangle with one corner on each bent at a 45 degree angle, which on one hand gives it more visual presence and more air resistance (which makes it move with slighter breezes), and on the other hand gives it a mid-century modern feel, not unlike many of the shapes found in Eero Saarinen's buildings and structures, one of my favorite architects. However I came up with the idea for the shapes while designing a custom mobile for a private residence at the Butterfield House, considered one of the most architecturally significant modern apartment houses in New York City.
Besides rotating, each element also moves up and down with the wind, and several people who have seen it so far thought it resembles a bird flapping its wings. It's currently in just plain unpainted metal, you can pick custom colors or a metal finish. And obviously, just because it's made for outdoors doesn't mean you can't hang it indoors.
Available through my mobiles shop on Etsy.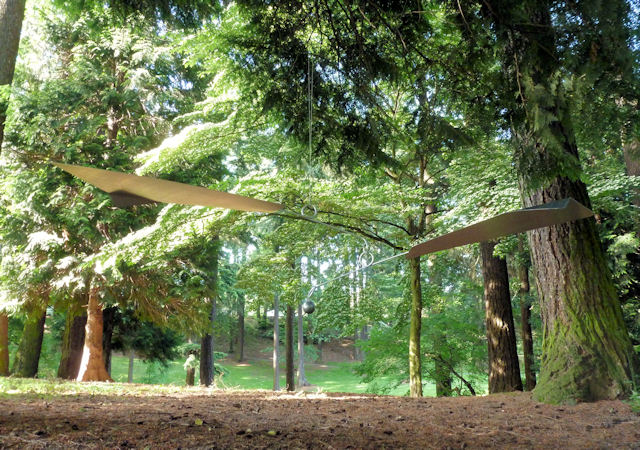 [Click on images to enlarge]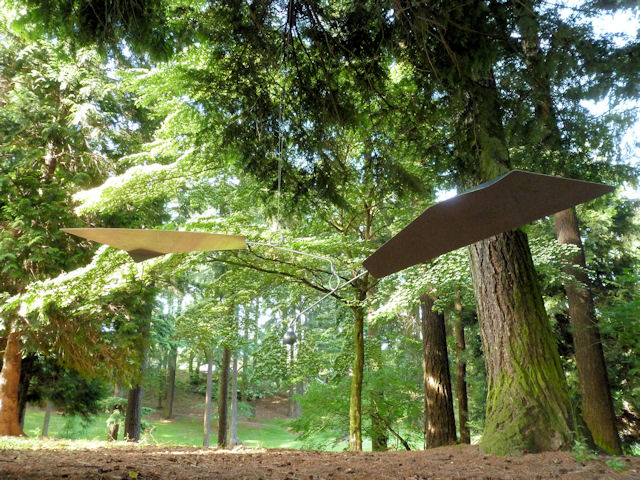 Looking for a different kind of mobile?
Indoor or outdoor, small or large, please see the ones available in my shop or contact me for a custom mobile.
Copyright © 2018 Marco Mahler