Mobiles before Calder – Who Invented Mobiles – A History of Mobiles (Part 1)
As someone who makes mobiles professionally and has spent quite a lot of time studying mobiles, I get asked once in while, where did mobiles originate from? Who made the first mobile? Or, who invented mobiles? The short answer is that Alexander Calder is the originator of mobiles, which is mostly correct, but Calder wasn't the first one nor the only one to experiment with the art form. The problem with providing a definite answer to the question of who made the first mobile starts with the definition of what a mobile is and what is simply just a hanging kinetic sculpture. You can read my definition of what a mobile is on my main page, but there isn't really a set of rules that one can apply to clearly tell one from the other. However, following are the hanging kinetic sculptures that I'm aware of that were made before Calder started to make mobiles. Some of them clearly qualify as mobiles in my opinion, others are up for debate.
In chronological order:
I've heard of a Greek architect who built a floating statue in the 2nd century B.C. for the wife of Egyptian King Ptolemy II Philadelphus (B.C.284-246). The suspended sculpture was dependent on the overall setting of magnetic forces on the roof and the walls. I've been trying to find out more about this but without success.
Wind chimes have probably been around since prehistoric times. The first evidence of them, found at archeological sites in South East Asia, dates them to about 3000 B.C.. The oldest one I have been able to find an image of is from ancient Rome where people made them out of bronze. They called them Tintinnabulum and hung them outdoors so the wind would make the bells ring. They were also believed to ward off evil spirits.
Japanese glass wind bells known as
Fūrin
have been produced since the Edo period (1603-1868). And in ancient China, wind chimes were a fundamental part of
Feng Shui
and were thought to bring good luck. It has been pointed out that Calder saw Chinese wind bells in his youth in San Francisco.
Himmelis are traditional sculptures that originated in Finland, although the root of the name is Germanic. They are a decorative objects, usually made of straw, that hang from the ceiling. A Himmeli (meaning "sky" or "heaven") is usually symmetrical and pyramid-shaped and rotates slightly with the air flow. Traditionally, they were made in the fall and were placed above the dining table until summer to ensure a good crop for the coming year. I haven't been able to find out how far back in history the tradition goes, but they have definitely been around long before 1930 when Calder started to make mobiles.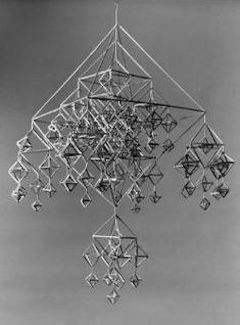 If you'd like to make a Himmeli yourself, the Guardian has a How To Make A Himmeli Sculpture.
The Museum Van Het Nederlandse Uurwerk in Zaandam, Netherlands has a mobile dated to 1751 made of four small whale hunter boats circling a whale: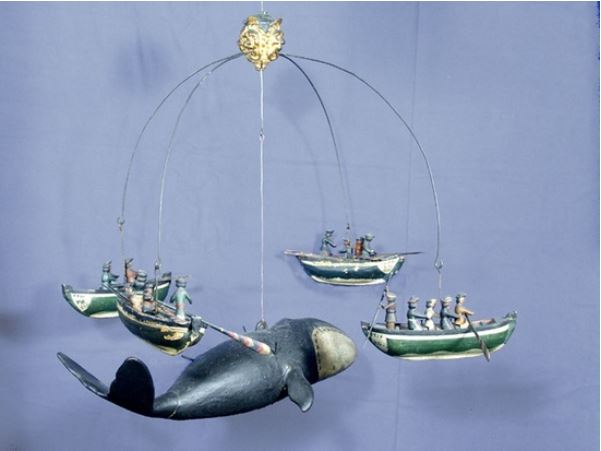 Calder was also interested in 18th century toys that demonstrate the planetary system.
The Russian artist Aleksandr Rodchenko made one of the first suspended kinetic sculptures in the 20th-century in 1919 (or 1920 depending on source) with his Oval Hanging Construction No.12: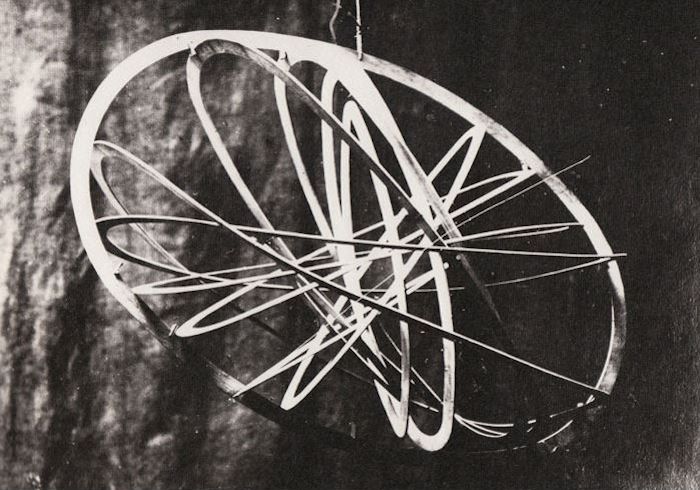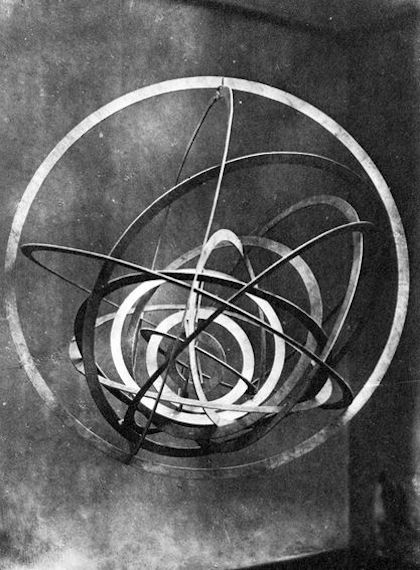 The Russian sculptor Naum Gabo began to experiment with kinetic sculptures in 1917, which makes him a pionner in the art form. He was interested in making sculptures that continually change their appearance, but are constant in what they represent (much like mobiles). The majority of his work was lost or destroyed, but here is a 1918 drawing that he titled Sketch for a Mobile Construction: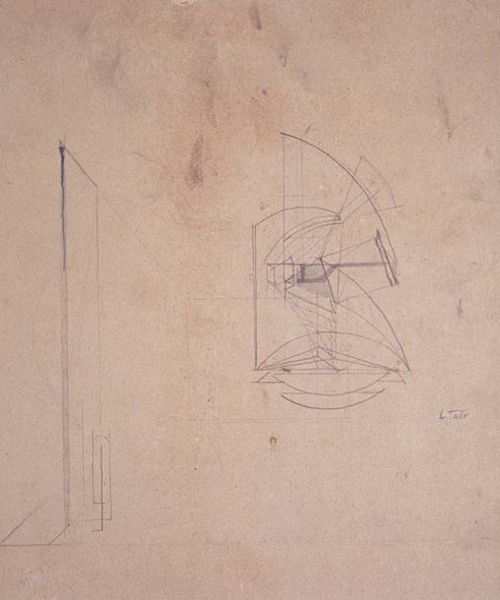 I've heard of a suspended sculpture by the Russian painter and architect Vladimir Tatlin called Contre-Reliefs Liberes Dans L'espace which he supposedly made in 1915. Constructed of mathematically interlocking planes, it apparently looked very much like a mobile. However, I've been unable to find neither an image nor any further information about it. The details surrounding Tatlin's life and work are relatively obscure to begin with. But here is his Letatlin (1930):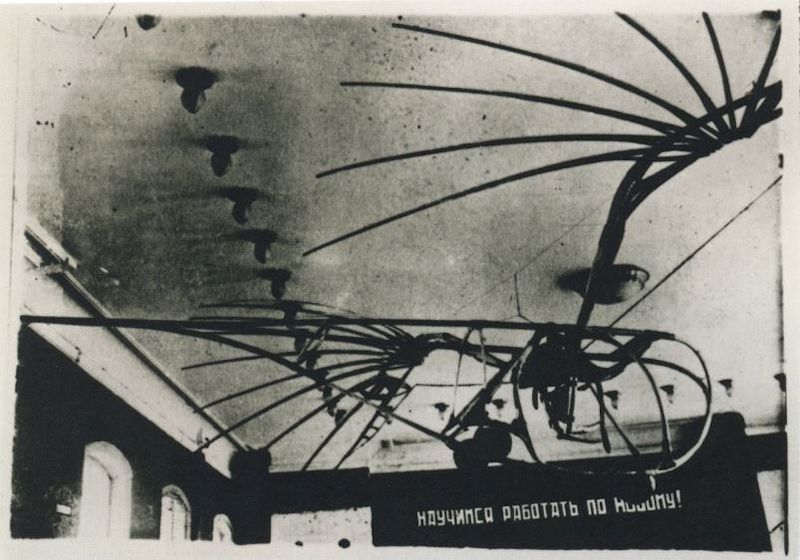 By the way, Aleksandr Rodchenko, Naum Gabo and Vladimir Tatlin all knew each other and were pioneers of constructivism (in fact, named to describe Rodchenko's work), which had a great effect on modern art movements of the 20th century, influencing major trends such as the Bauhaus and De Stijl movements.
Now this next one is very important for the history of mobiles. It's Man Ray's Obstruction that he made in 1920. It employs the whippletree mechanism as a balance structure in the same way that Calder started to use it in some of his mobiles a decade later. The whippletree mechanism has been used for centuries or more to distribute force evenly through linkages when horses or mules pull a plow or a wagon:

Man Ray's Obstruction is the first of this type of hanging kinetic sculpture that I'm aware of that makes use of this mechanism. Even with it's rudimentary coat hanger design, it can definitely be classified as a mobile: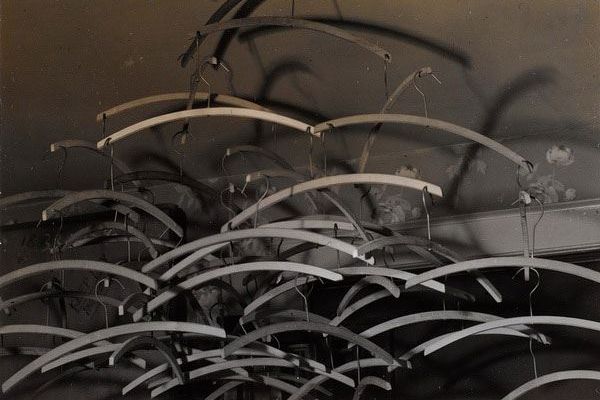 And just because it's so important to the evolution of mobiles, here's another photo of it (63 wooden hangers, recreated in 1961):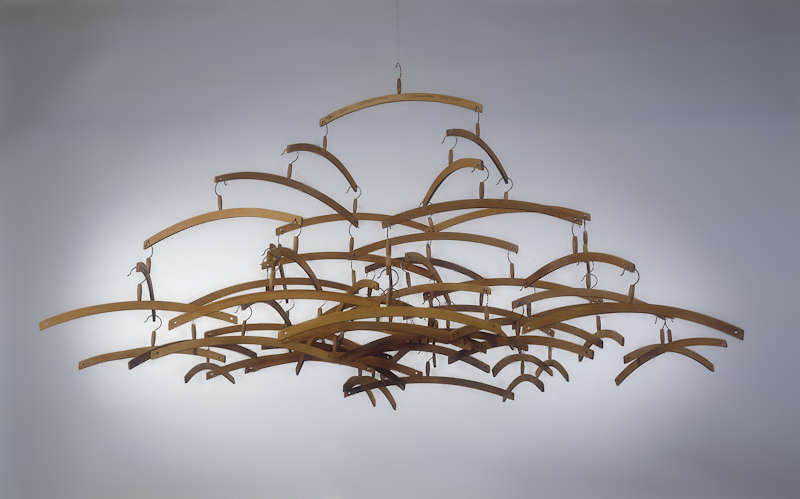 Man Ray's instructions on how to assemble his mobile: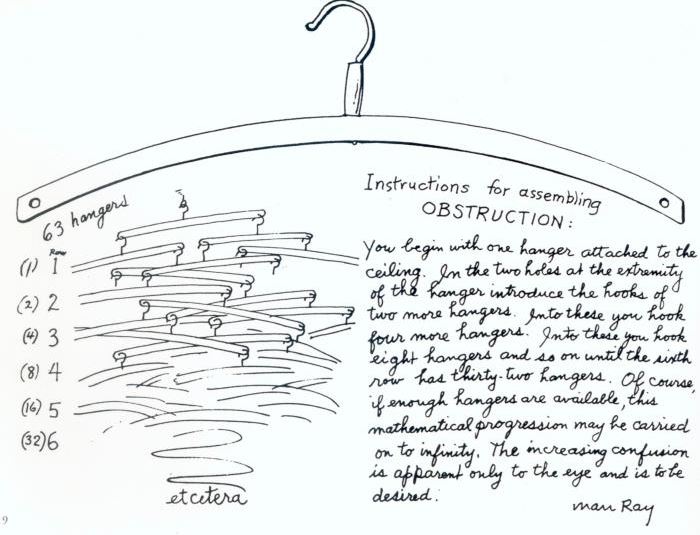 Man Ray also experimented with hanging abstract pieces of sheet metal, here with his Lampshade in 1920: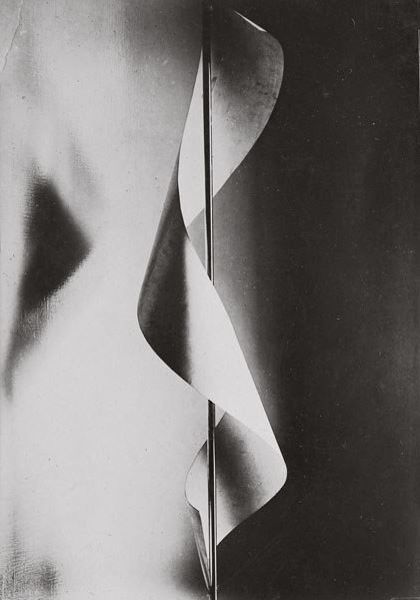 Bruno Munari, one of the first kinetic sculptors, started to follow the Futurist movement in 1927. He made what he called "Useless Machines" (macchine inutili) and was interested in creating pieces of art that could interact with their environment (much like mobiles).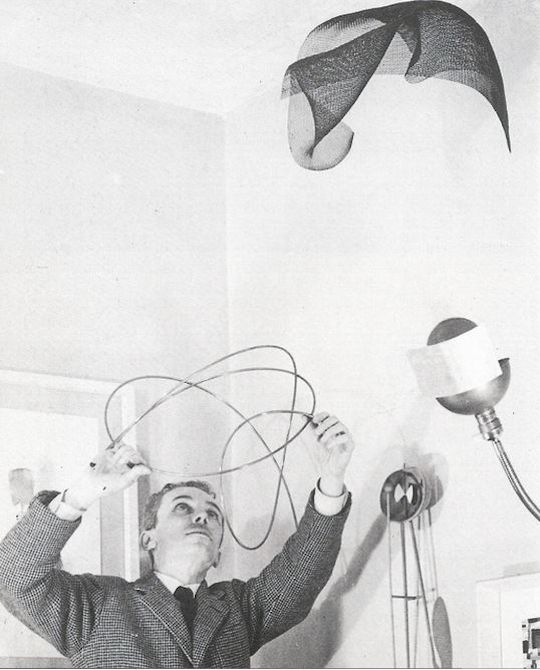 Bruno Munari's Macchina Aer0ea (aerial machine), 1930: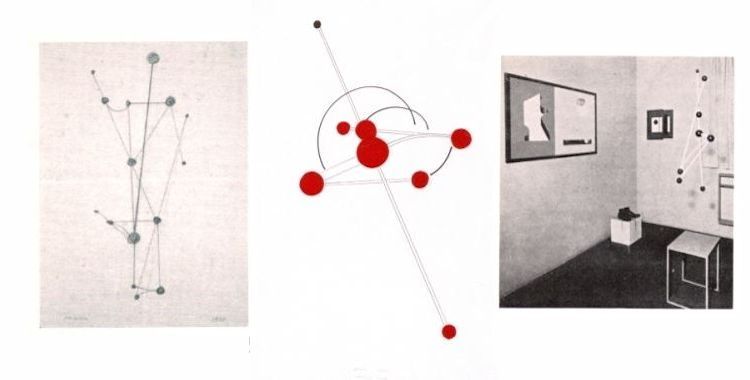 Bruno Munari continued to make very beautiful and original mobiles throughout the 1930s and 1940s (same time as Calder was exploring the art form):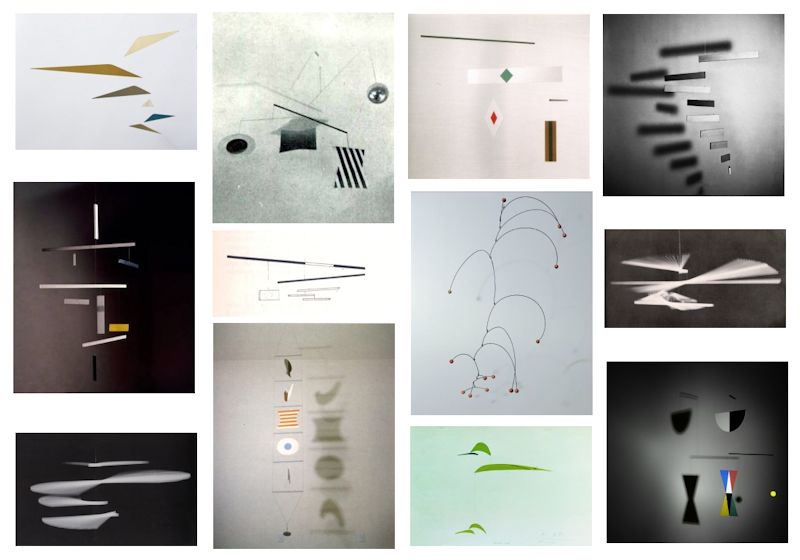 Bruno Munari once said (from the book Bruno Munari: Air Made Visible): "What difference was there between my useless machines and Calder's mobiles? I think I should clear up this matter: apart from the fact that the material construction was different, the means of constructing the objects was also different. The only thing they have in common is that they are suspended objects that move. But there are many suspended objects and there always have been, apart from the fact that even my friend Calder had a precursor in Man Ray, who in 1920 constructed an object on the same principle."
See more of Bruno Munari's work if you're interested, it's quite amazing.
According to the Museum of Modern Art, one of Alberto Giacometti's achievements was to enlarge the mobile concept decisively, so that formal innovation could be reconciled with the Surrealist interest in subconscious associations. Here is his kinetic sculpture, Suspended Ball, 1930: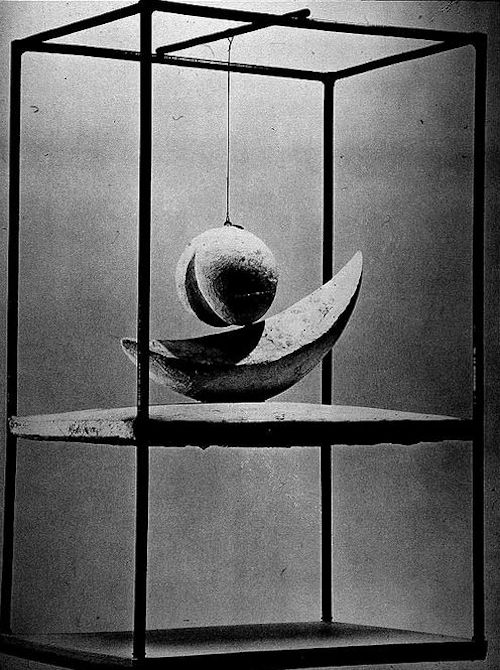 And now here comes Alexander Calder in 1931 experimenting with abstract motorized constructions like Mobile (Motorized Mobile):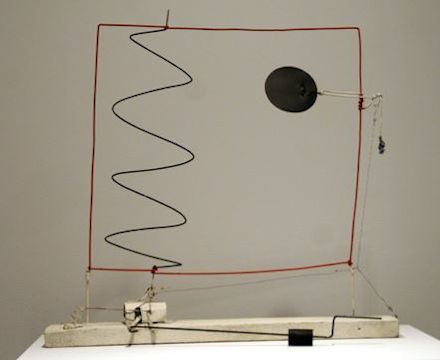 Calder visited the painter Piet Mondrian in October 1930 and later said: "When I looked at his paintings, I felt the urge to make living paintings, shapes in motion." Influenced by the abstract work of Mondrian, Joan Miró and Sophie Taeuber-Arp, he's approaching the idea of kinetic sculptures like an alchemist with pieces like Object with Red Discs (also known as Calderberry Bush even though Calder claimed he never assigned that title to it), made in 1932 and regarded as his first standing mobile: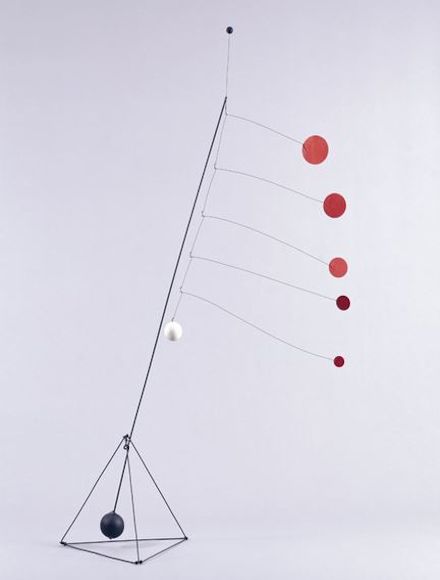 And considered by some to be his first hanging mobile (and also one of his rarer sound / "noise" mobiles), Small Sphere and Heavy Sphere (1932/33):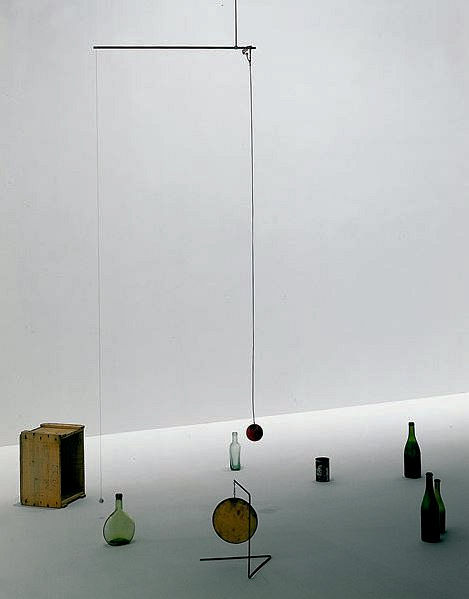 And in 1933, Cône d'ébène, one of his first hanging mobiles where all the elements are suspended: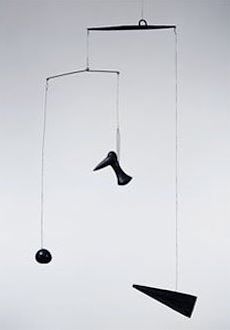 Calder made a simple yet very important advance in how the balance structure is applied to a hanging kinetic sculpture. He went from the straightforward whippletree structure, like the one in Man Ray's Obstruction mobile that we looked at above, to this (Alexander Calder, Untitled, 1932):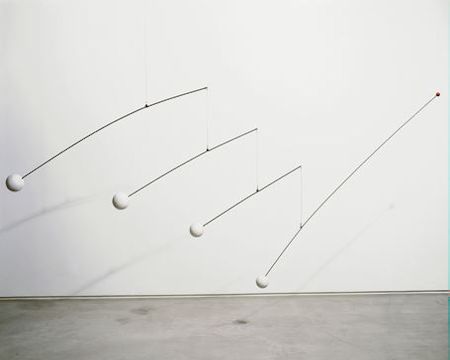 Instead of attaching lower elements to both ends of the wires, he replaces one on each arm with an abstract shape. It's a new way to apply the whippletree structure to a hanging kinetic sculpture, which allowed him to turn the whole idea into a new art form, a complete new magical universe with mobiles like Vertical Foliage (1941):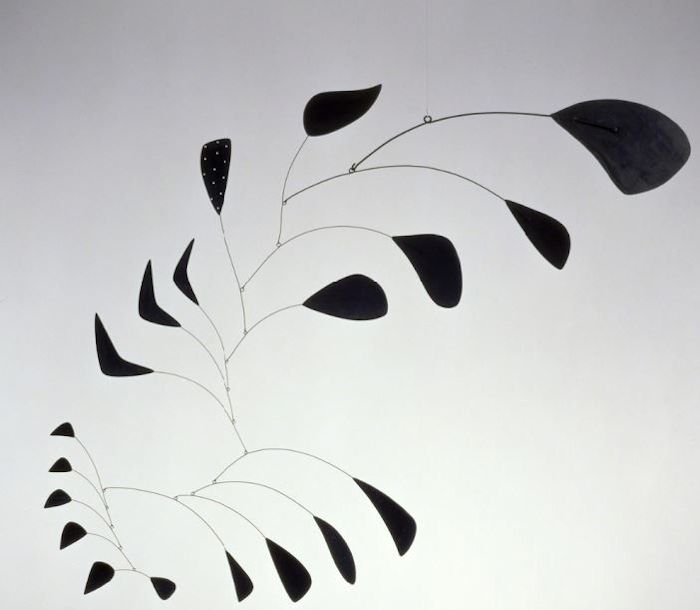 The term "mobile", a French pun meaning both "mobile" and "motive", was coined by Marcel Duchamp while visiting Calder's studio in 1931, although he apparently already used the term in 1913 for his readymade Bicycle Wheel, which some consider to be the first kinetic sculpture.
If you know about any other early mobiles, standing or hanging, or suspended kinetic sculptures that were made before the early 1930s, please let me know, I'd love to hear from you.
Versions of this article also appear on Houzz and Saatchi Art (via Artsy on FB and Twitter and via Saatchi Art on FB and Twitter).
Next: Mobile Sculpture Artists – A History of Mobiles (Part 2) – a list of sculptors and specifically mobile artists (besides Calder) who have made important contributions to the art form since the early 1930s.
– See some of my mobiles or read more of my blog about mobiles –
Copyright © 2018 Marco Mahler