Iconic 1960 Calder mobile from private collection on offer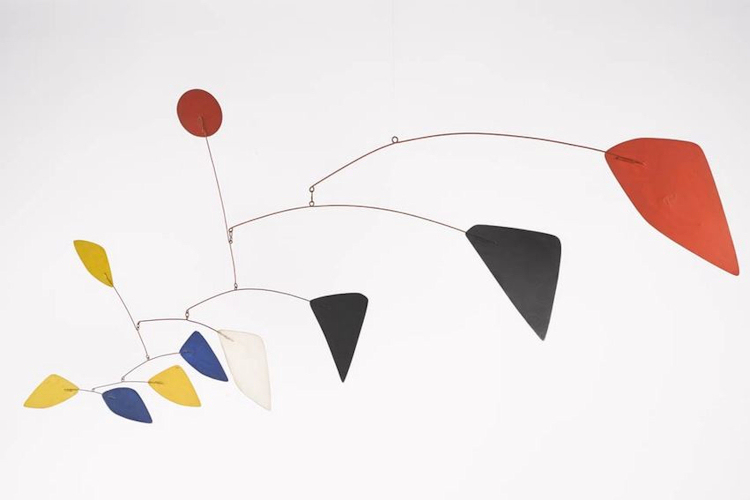 Alexander Calder, Maripose, 1960, 30 x 67in.
Bonhams will offer Alexander Calder's (1898-1976) 1960 sculpture Maripose in the November 12 2013 Contemporary Art auction (est. $1,200,000-1,600,000). This stunning example of Calder's large scale mobiles has been in private American hands for nearly 40 years in Wisconsin-based collections.
A native of Pennsylvania, Calder was born into a family of sculptors. His first solo show was held in Paris in 1927 while he was still in his twenties; he would soon become one of America's most lauded and prolific artists. It was Marcel Duchamp who first dubbed Calder's kinetic wire sculptures "mobiles," – these hanging, interactive pieces would come to define the artist's legacy.
Maripose was originally offered at Perls Gallery in New York, which represented Calder from 1954 until the artist's death. The mobile was acquired in 1976 by a prominent private collector from Milwaukee's Irving Galleries, and passed by descent to the present owner in 1988. The mobile was exhibited at the Milwaukee Art Museum in 1987, and is registered with the Calder Foundation.
"In Maripose, every element of Calder's genius is evident through the striking sense of balance and momentum the sculpture evokes," said Jeremy Goldsmith, Bonhams Director of Contemporary Art in New York. "It's a pleasure to bring such an important work to the market after nearly four decades in private hands."
The auction will preview at Bonhams November 9-12 2013.
Copyright © 2018 Marco Mahler